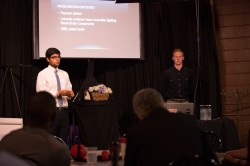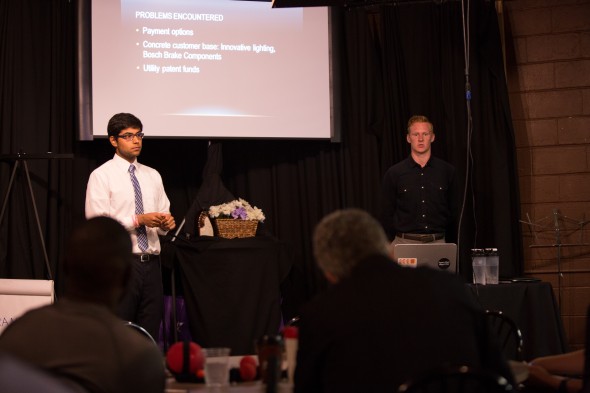 Ten Drake University students are hard at work this summer developing five new businesses with mentorship and financial support from an alumnus who wanted to create opportunities that he wished he could have taken advantage of at his alma mater. Students are developing dating apps, on-demand tailoring services, a live-streaming video platform, a concierge service for politicos, and a new line of cosmetics through the Lorentzen Student Hatchery program.
Now in its second year, the innovative Lorentzen Student Hatchery was proposed and funded by John C. Lorentzen, a 1977 Drake graduate and partner at Winston & Strawn in Chicago. The program's inaugural cohort developed a custom-painted specialty bike sales business, an innovative training device targeted at mixed martial arts fighters, and a new brake light system for cars, among other projects—and the second cohort is operating in an environment that's even more conducive to success.
"This year there is more diversity in gender, race, and age among our participants," said Tom Swartwood, professor of entrepreneurship. "We have projects that run the gamut from digital, to products and service, to service-only. It's fantastic news for the students, because the size and diversity of the network drives the value of the opportunity."
Hatchery startups receive funding of $5,000 for individuals and $10,000 for teams to cover housing, start-up, and other expenses. This year's projects include:
Glimpse/Shake It— Ethan Turner, junior, radio/television journalism, writing, and entrepreneurship major; Jonathan Osifuye-White, junior, international business and finance major.
An application that provides live video-streaming via three globular shaped news feeds. Through The Perspective, The Personal, and The Commercial feeds, users will have the option to watch live broadcasts by friends and acquaintances, tune into their own past recordings, or enter a globe of user-controlled options for shopping, browsing, or entertainment. Website
KZA, LLC/Kelsi Ziemann Artistry (cosmetics and on-location makeovers)— Kelsi Ziemann, senior, entrepreneurial management and marketing major with an emphasis on sales and sales management.
A professional service-based cosmetics company that offers on-location makeovers. KZA is expanding into product development with the launch of a new line of lipstick aimed at delivering long-wearing, easy-to-use formulas in an innovative lipstick tube that makes it easier to store and locate colors. The innovative cosmetics line will suit the needs of a wide array of customers—from the bride who wants the perfect makeup for her big day, to the business professional who desires quality products that last through an important board meeting. Website Facebook
Settled In (concierge service)— Brayton Deprey, senior English and law, politics, and society major; Alexi Delathouder, senior, international relations and law, politics, and society major.
A concierge-type service targeted at political campaigners making temporary visits to, and short-term stays in, Des Moines. Settled In assists with finding housing, providing tours and transportation, arranging laundry and cleaning services, and much more so that upon arrival, clients are able to get "settled in" faster and more efficiently. Overall, the service reduces the hassle of visiting/moving to a new city and allows the staff time and energy to focus on the campaign. Twitter
Snippster "The New Clothing Experience" (on-demand tailoring)— Kai Asberry, senior, international relations and law, politics, and society.
Snippster is brings the clothing alteration industry into the 21st century. Snippster provides the convenience of on-demand tailoring via "hellosnippster.com" to allow for on location based request for alterations. Once a request for tailoring has been made a "Snippster Agent" will measure and pin the client for the desired look in 10 minutes. After measurement and pinning, the clothing will be returned with alterations within 4 days standard or 2 days express. Website Facebook Twitter
Tryst (dating app)— Drake alumni Garrett Carty, BN'15; Chris Fairbank, BN'15; Sam Lowry, GR'15; and Braeden Stanley, BN'15.
Tryst is a date concierge service that works to simplify and reduce the stresses of planning a date. We create new experiences for couples and those looking to get out of the routine. Users simply sign up for the service and the Tryst team contacts them weekly with dates. We take customer likes and dislikes into consideration and build a truly personalized date for you and your significant other. Need some flowers or questions to shake things up? Don't fret. We will provide you everything and anything you need to make your night and wonderful dating experience. Website
Students were accepted into the Hatchery program last fall and meet with faculty members, local entrepreneurs, and other mentors at least once a week during the summer. They will present final progress reports to Lorentzen, invited guests, and Drake faculty members during a Celebration of Entrepreneurship being held Oct. 1-3 on campus.