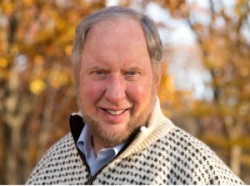 It's the kind of conversation that Iowans are having every day over their morning cup of coffee—only this time, the discussion will be led by a public policy expert at Harvard University.
Robert Putnam, one of the most engaging social scientists of our time, will lead a coffee hour discussion about the growing inequality in American society from 9-10:30 a.m. Friday, July 10, at Drake University. The Harkin Institute for Public Policy and Citizen Engagement partnered with Every Child Matters and 10 other national and local nonprofit organizations to sponsor "Our Kids: The American Dream in Crisis with Robert Putnam." This free event has already sold out with more than 650 RSVPs. Visit www.drake.edu/harkininstitute for information.
"We are honored to welcome Robert Putnam for a thought-provoking discussion of one of the most timely public policy issues facing America today," said Marsha Ternus, director of the Harkin Institute. "And we are proud of Iowans for their interest in this topic. Time and again—through their engagement with issues including climate change, government surveillance, and big money in American politics—supporters of the Harkin Institute have embodied the reputation of Iowans as engaged citizens with a deep interest in public policy conversations."
Politicians as diverse as President Obama, Jeb Bush, Hillary Clinton, and Paul Ryan have consulted with Putnam on the issue of opportunity inequality. Through vivid storytelling, Putnam will share the dynamic change in American society over the past 25 years—the widening class-based opportunity gap evident in family stability issues, poor-quality schools, and lack of social support for low-income children.
Putnam, the Peter and Isabel Makin Professor of Public Policy at Harvard, will also share how America faced the same kind of gap at the end of the 19th century, and how we overcame it. He will offer public policy proposals that cross party lines and begin to reverse the opportunity gap for our children.
"Our Kids: The American Dream in Crisis with Robert Putnam" is hosted by the Harkin Institute for Public Policy and Citizen Engagement in partnership with Every Child Matters, Save the Children Action Network, the Community Foundation of Greater Des Moines, the Iowa Community Action Association, the Greater Des Moines Partnership, the Child and Family Policy Center, the United Way of Central Iowa, the Iowa Chapter of American Academy of Pediatrics, First Focus, the Iowa Association for the Education of Young Children, and Make it Work.
This event will last approximately 90 minutes and will be followed by a book signing.