Part of the challenge, said representatives from the city of Perry, is the growing number of cyclists on the Raccoon River Valley Trail who can't easily navigate and explore the town of 8,000. Part of the solution, said Management 160 students during a forum in Aliber Hall this spring, might include a new main street bike lane that seamlessly connects the trail with the downtown district.
The exchange of ideas was one element of a larger and continuing conversation surrounding downtown vitality. Over the next 18 months, Drake students from multiple disciplines will test-drive classroom concepts in the real world—the real, multidimensional, complex, interconnected world. Students, faculty, and staff from management, public relations, environmental science and policy, graphic design, and the University's entrepreneurship centers are partnering with two Iowa cities—Perry and Manning—to study local challenges and develop recommendations.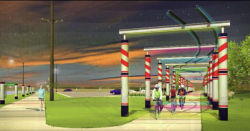 "We're using a holistic lens," says Mandi McReynolds, director of community engagement and service-learning, explaining an approach to revitalization that impressed the Iowa Economic Development Authority (IEDA). Last fall, from among two dozen interested colleges and universities, Drake was chosen as the partner for IEDA's Downtown Economic Development Pilot Program Competition. "Rather than being siloed in their own discipline, our students are asking, 'How do we look at all the needs of a community?'"
Numerous municipalities across Iowa submitted grant applications to participate in the program, and Perry and Manning were chosen. Faculty across Drake's campus reviewed the selected cities' proposals, identifying opportunities for their students to apply what they've learned while simultaneously getting a taste of future career possibilities.
"Each semester I look for a real-world management project for students to work on," says Deb Bishop, associate professor of practice in management and international business, describing previous endeavors that have ranged from large event planning for an Iowa nonprofit to layouts for a new health center in Uganda. Her management students visited Perry in April before researching, crafting, and finally presenting their revitalization recommendations. "This experience helps students build on some key concepts important to community development, and a more open-ended project like this better replicates the types of projects they may be assigned on the job."
Drake students will be back in Perry this fall, examining history, trail usage, signage design, entrepreneurship, and communications—and continuing the collaboration.