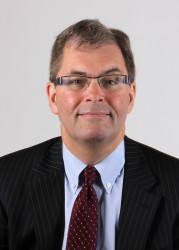 Carolina Academic Press recently published "Comparative Constitutional Law: South African Cases and Materials in a Global Context" by Mark Kende, director of the Drake Constitutional Law Center and a James Madison Chair Professor in Constitutional Law at Drake Law School.
Harvard Law Professor Cass Sunstein has said that South Africa has "the most admirable constitution in the history of the world." Kende's comparative constitutional law casebook is distinct because it allows students and experts in U.S. constitutional law (or other nations) to compare their approach with modern South African constitutionalism.
The transformative and progressive South African Constitution adopts the most successful parts of existing parliamentary constitutions, while honoring the nation's African heritage. Further, it incorporates numerous international human rights such as socio-economic and environmental rights.
The South African focus of the book guarantees readers will grasp the contingency and social context of a foreign constitutional court's decisions, rather than primarily surveying cases from numerous other nations. The introductory chapter provides background on South Africa and then exposes readers to key theoretical questions about comparativism. Excerpts from that Court's decisions make up most of the core second chapter. The core chapter also contains questions about the reasoning of each South African case, as well as how that case compares to a single foreign case on the same topic.
The book is suitable for law students, as well as other graduate and undergraduate students. In addition, the book is the first condensed version of South African constitutional case law published in the U.S. Thus, it functions as a research collection for experts, as well as a casebook.
Mark Kende earned his B.A. cum laude with honors in Philosophy from Yale University, and his J.D. from the University of Chicago Law School where he was a member of the Law Review. Prior to entering academia, he clerked for a federal judge and litigated employment, civil rights and constitutional cases at a Chicago law firm where he worked with Barack Obama. He has co-taught constitutional law classes with two current U.S. Supreme Court Justices.
Kende previously taught at Notre Dame Law School, the University of Montana School of Law and the University of Tennessee Law School. He was Teacher of the Year at Montana in 2002-2003. He has served as a Senior Fulbright Scholar and Visiting Professor of Law at the University of Stellenbosch in South Africa, as a Fulbright Senior Specialist in the former Soviet Republic of Moldova, and as a Visiting Professor at the University of Paris II – Pantheon. He has lectured or published scholarship in Canada, China, the Democratic Republic of the Congo (as a rule of law consultant), France (at the University of Paris I – Sorbonne), Germany, Spain, South Africa, the United Kingdom (at Oxford University), and throughout the United States. In 2003, he served as chair of the Association of American Law Schools Section on Africa. In 2008, he served as chair of the Section on Constitutional Law. He also co-directs a Law & Society Research Network on Africa.
The Drake Constitutional Law Center is one of only four constitutional law programs established by the U.S. Congress and funded by the federal government. The Center's mission is to foster study of the U.S. Constitution, its roots, its formation, its principles and development.