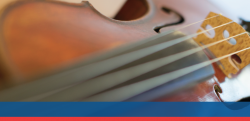 A new Des Moines music festival will introduce the sweet sound of string ensembles to a summer season headlined by rock stars and pop idols.
Zenith Chamber Music Festival is scheduled for August 18-21 and features daily performances by international and local artists. The family-friendly festival, hosted by Drake University, will include free concerts at Drake, the Des Moines Art Center, the Des Moines Social Club, and Caspe Terrace in Waukee.
The festival's distinct style complements well-known rock, pop, and jazz offerings including 80/35, Nitefall on the River, Jazz in July, and the Grandstand lineup at the Iowa State Fair.
"The Des Moines music scene has really taken off in the past few years with an exciting range of musical alternatives, and we saw an opportunity to elevate the culture even further with a festival dedicated to chamber music," said Ashley Sidon, associate professor of music at Drake University. "It's something many major cities have embraced, and based on initial support and enthusiasm we know it's going to be well received here."
Drake University music faculty members have worked alongside private philanthropists to bring Zenith to life in the Des Moines metro area. Featured musicians, most of whom will perform nightly, include Helen Hwaya Kim, a violinist with the Atlanta Symphony Orchestra; Anna Reider, violinist with the Cincinnati Symphony Orchestra; Arie Schacter, violist with the Seattle Symphony Orchestra; and Lei Weng, an international piano soloist and member of the faculty at University of Northern Colorado.
They will be joined by Drake University faculty and other local musicians, including pre-college performers, for impressive displays of artistry. But unlike some classical experiences, don't expect sidelong glances if you cough during a piece or clap at an inopportune moment. The festival is designed to be accessible for fans of all ages and interests—from seasoned classical aficionados to casual listeners—and each venue promises a unique atmosphere.
The festival will also serve as an educational experience for thousands of Iowa students who perform in school musical ensembles or study an instrument at home. There will be a master class for pre-college students on Aug. 20, followed by a final concert with a combination of students and Zenith featured artists on Aug. 21.
Performance dates, times, and locations are as follows:
Visit www.drake.edu/zenith throughout the summer for more information, including detailed performance schedules, as it becomes available.
For media inquiries contact Aaron Jaco, senior media strategist, at 515-271-1834 or aaron.jaco@drake.edu.