When Mike Cigelman was working at Wichita State University in 1985, he worked alongside two graduate assistants who were Drake University alumni. A segment about the Drake Bulldogs came on TV and the assistants went wild.
"I could tell right away their institutional connection was different than mine," said Cigelman, who earned a B.A. in Sociology from the University of Nebraska in 1979.
Don Adams, who hired Cigelman on Aug. 25, 1986 (a specific date they both remember), said it was a colleague at Wichita who strongly recommended Cigelman for the opening of director of recreational services. Cigelman accepted, assuming he would move on in two years after building his résumé. Nearly 30 years later, he is retiring as associate athletic director, facilities/director of recreational services.
"In the first month I was here, I had more students, faculty, and staff thank me for doing my job than I'd ever had in any job," Cigelman said. "What I found at Drake is an incredibly supportive environment. It was a real sense of community that I had not experienced before."
Cigelman's contributions to Drake read like a highlight reel. In 1992 he assisted architects on design of The Knapp Center and the Roger Knapp Tennis Center. He was the primary Drake Athletics contact for the Field House renovation and construction of the Shivers Basketball Practice Facility. He was part of a Drake-wide collaboration that brought President Bill Clinton to campus in February 1996; Cigelman recalls the president munched on his favorite snack, chips and salsa. He has traveled the world with Drake teams as a chaperone, administrator, and dedicated fan, witnessing thrilling wins and heartbreaking losses.
"It's really important to me that the student-athletes are students who care about quality education," Cigelman said.
In particular, Cigelman recalled a 1993 NCAA softball championship game as his favorite moment representing the type of student-athletes at Drake. The team defeated Illinois State in the championship game. Kerry Przybylski, ED'94, a junior at the time, dreamed of playing softball at Illinois State only to be told by the softball coach there she wasn't Division I material. After the game, the Illinois State coach approached Przybylski and told her she was wrong. Cigelman said that story reflects what he finds important in NCAA Division I athletics.
Cigelman is going to miss his Drake family, especially the students and the excitement of major events.
"I love coming to work and interacting with Drake students. I find them bright and motivated. But they also don't just accept any answer you give them. I really enjoy that," Cigelman said.
Staff, former employees, and past graduate assistants have celebrated his service to the University at a number of receptions, including a part during his final Drake Relays as staff. At a later reception, Director of Athletics Sandy Hatfield Clubb addressed a room of dozens from across campus.
"You can replace the work," Hatfield Clubb said, pausing to compose herself. "But, you can't replace someone with as much heart as Mike." The room paused with her, reflecting on the heart of Mike Cigelman they encountered the past 29 years.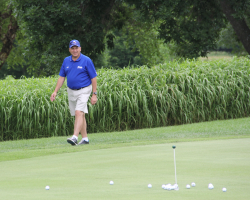 Mike and his wife Susan Cigelman, ED'93, GR'96, are moving to their vacation home in Hot Springs Village, Arkansas, near Little Rock. The town has nine golf courses, 10 lakes, and is between a national park and a national forest. They plan to enjoy hiking, bird watching, and possibly collecting a few muscle cars. And they will continue to follow Drake athletics closely, cheering them on every step of the ways. The couple will remain as co-directors of the Beautiful Bulldog Contest and work remotely.

"I really liked that the students challenged me and continue to do so today. I think I've taught the students some things, but I guarantee you they've taught me much more," Cigelman said. "Working at Drake has been an incredible experience—something I consider a privilege."