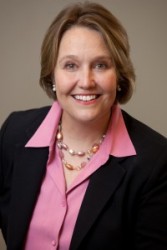 Jennifer Glover Konfrst, assistant professor of public relations at Drake University, will explore the campaign strategies of presidential hopefuls during a presentation at the Midwest District Conference for the Public Relations Society of America.
Konfrst, who leads Drake's new Strategic Political Communications program launching in fall 2015, will give a presentation titled, "Grassroots Messaging: What We Can Learn From The Campaign Strategies Of The First-in-the-Nation Iowa Caucuses."
While big data and high-tech targeting rule the day in candidates' national political messaging, Konfrst says campaigning during the caucuses demands plenty of one-on-one, face-to-face interaction with voters. She will discuss the importance of that strategy—and what organizations can learn from it—during her session, which will also focus on topics including:
How messaging strategies that involve one-on-one interactions are critically important in today's online world.
What strategies have been tried – some with success, some without – in the presidential realm in Iowa, and what that can teach us in our organizations.
 How personalized messaging and "old-fashioned" strategies can make or break a brand.
The three-day conference will be held June 10-12 in St. Louis and features more than 20 professional education sessions, networking events and business development opportunities.