Renae Chesnut, associate dean of Academic and Student Affairs since 2004, has been promoted to serve as interim dean of the College of Pharmacy and Health Sciences (CPHS) effective June 18, 2015.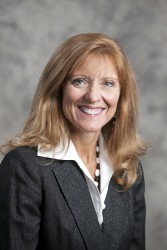 Chesnut earned her bachelor of science in pharmacy, master of business administration, and doctorate of education degrees from Drake University.
Chesnut, who joined the Drake faculty in 1993, is a Professor of Pharmacy Practice. She has also been recognized as the CPHS Mentor of the Year, has served on Faculty Senate, and has been the Faculty Athletic Representative to the NCAA and Missouri Valley Conference since 2000.  She is a past president of the Iowa Pharmacy Association, is a member of the Cardinal Health Women in Pharmacy Advisory Board, and was the 2014 recipient of the national Lambda Kappa Sigma Vanguard Leadership Award.
"Chesnut brings to the position of Interim Dean a rich knowledge of her college, an extensive range of experience, a broad network of contacts with alumni and health professionals, and a deep commitment to Drake University," said Joe Lenz, acting provost, and dean of the College of Arts and Sciences. "I very much look forward to working with her in the coming year."