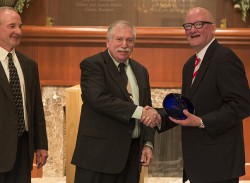 About 50 Drake University alumni, faculty members, and students of Drake's actuarial science program gathered yesterday for an evening of networking and celebration. The annual Actuarial Science Alumni Evening was held in Levitt Hall of Drake's Old Main.
Jim Wallace, BN'77, a member of the Drake University Board of Trustees, was honored with the Stuart A. Klugman Distinguished Alumni Award. The award was named in honor of Klugman, a former Principal Financial Group distinguished professor who was instrumental in developing Drake's actuarial science program during his career at the University from 1988 to 2009.
Wallace serves as chairman, president, and CEO of GuideOne Insurance, a national property/casualty niche insurer, and one of the nation's largest church writers. The company has been a generous supporter of Drake University and the Actuarial Science department. In 2012, Wallace was awarded the Drake University College of Business & Public Administration (CBPA) Community Leadership Award, and is a past member of the CBPA's national advisory council. Jim's father, Jack D. Wallace, ED'61, served as Drake University's head football coach from 1965-1976.
Wallace is active in numerous industry and community groups, including the Greater Des Moines Partnership Board of Directors and Executive Committee, Property Casualty Insurers Association of America Board of Governors, YMCA Board of Directors, Des Moines Art Center Board of Directors, Des Moines Diocese Financial Council, St. Augustin Church Finance Council and CEO Breakfast Club. He is past chair of the board of directors for the Greater Des Moines Partnership.
"Not only does Jim Wallace have a strong leadership role in the companies that he has worked for, but he also has had a strong leadership presence in the industry and community," said Jim Noyce, BN'78, who presented the award on behalf of the actuarial science program's advisory board.
Noyce is the retired chief executive officer of FBL Financial Group, Inc., and its affiliated financial service companies. He is a longtime supporter of Drake University Athletics and a member of Drake's Actuarial Advisory Council. His parents created the Richard J. and Patricia A. Noyce National Alumni Scholarship and the Richard J. and Patricia A. Noyce George A. Carpenter Scholarship to provide a free Drake education to some of the University's brightest students. Jim Noyce's two siblings, Kenneth Noyce, BN'80, GR'84, and Carol Molino, BN'85 are also Drake alumni.
Drake University is recognized as having one of the nation's best actuarial science programs, and is one of the few private university actuarial science programs in the Midwest with a full set of actuarial science courses taught by actuaries. Drake is one of 16 universities in the United States to be recognized as a Center for Actuarial Excellence by the Society of Actuaries.