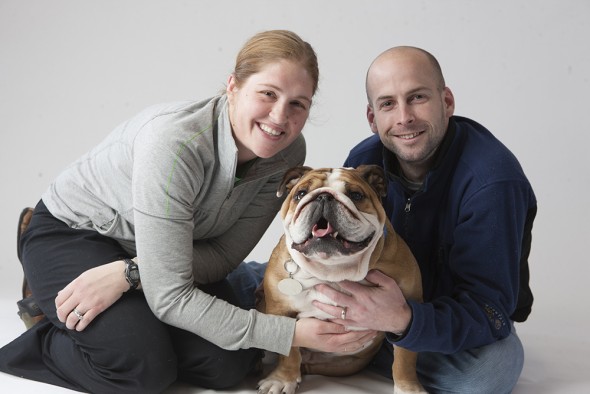 Drake University will soon have a new live mascot.
University officials will begin a search for a bulldog with the right combination of looks, charm, confidence, and kindness to walk in the paw prints of Porterhouse, a 2009 Beautiful Bulldog Contest winner who became so popular with the Drake community that at the conclusion of his reign he stayed on as Drake's first (and to date, only) live mascot. He was a fixture at athletics events, campus celebrations, and community festivities until he passed away in December 2013.
"Porterhouse was the ultimate ambassador for Drake University," said Sandy Hatfield Clubb, the University's athletic director. "Through his gentle nature and loving personality, we saw the full power of a live mascot to energize our fans, delight students, and unify the campus. We look forward to many joyful years with a new campus canine."
Porterhouse's owner, Erin Bell, has been contracted to serve as live mascot director. In that part-time role she will serve as the bulldog's caretaker, handler, and agent—managing the career of an animal that is sure to gain instant love and fame.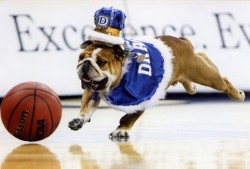 The new mascot will join the likes of Uga, Blue, and Jack—live mascots at University of Georgia, Butler University, and Georgetown University, respectively—in the ranks of bulldogs who rule, and drool, on behalf of their alma maters.
"Having a new live mascot will be great for Drake and for the community," Bell said. "The camaraderie and school spirit that Porterhouse sparked in everyone was so special. He stood for good things— love and kindness—and we're always hearing from people who miss having him around."
Porterhouse was not just an icon or face of the University, he was a close friend to everyone on campus, said Student Body President Joey Gale.
"A live mascot brings students, faculty, staff, alumni and the community together in a way that nothing else really can," Gale said. "I hope you all welcome our future bulldog with loving hugs, lots of selfies, and doggie treats. Erin Bell is nothing less than an extraordinary leader who is widely known throughout the Bulldog community nationwide, and under her direction I know the future of our live mascot program will be in good hands."
Costs for the live mascot and directorship will initially be funded through private philanthropy. More details on fundraising, and on the process for the mascot search and introduction to the Drake community, will be revealed soon.