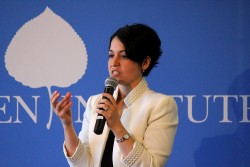 Drake University is one of three winners of the Service Year + Higher Education Innovation Challenge by the Franklin Project at the Aspen Institute, the National Conference on Citizenship and the Corporation for the National and Community Service.
 Drake and the other two winning schools, UMass Dartmouth and Miami Dade, were each awarded $30,000 for their proposals to implement innovative service year projects. Judges selected the three winning institutions after reviewing more than 200 proposals.
 Drake's proposal was to create the Engaged Citizen Corps, an intentionally designed curriculum and service year experience for entering first year students. Members would complete a nine month, 32 hour per week service placement with the integration of 24 undergraduate college credits. The members would work toward increasing economic and community development of the greater Des Moines area in one of five areas: housing, transportation, health and safety, business cultivation, and arts and culture.
"Drake University is honored to receive this prize," said Mandi McReynolds, director of community engagement and service learning. "The challenge provides an outlet for institutions of higher education to ignite ideas and cultivate innovation around civic engagement. Universities as social enterprises must consider the service year experience as attainable for students to complete during their collegiate years. It is critical to our mission as institutions.
Watch McReynolds accept the award (starting at 6m 55s):

UMass Dartmouth won the public university category for their "Community Health Worker Advocate! Navigate! Educate!" proposal where students will be trained as Community Health Workers. Miami Dade won the community college category for their "Changemaker Corps" that will help youths aging out of the foster care system.
McReynolds adds that Drake's goal is to engage 15-20 entering students to create the Engaged Citizen Corps during its first year. By 2020, 60-80 members would have completed the program, serving over 72,000 service hours and increasing the economic development and community capacity of the Greater Des Moines region.
The proposal reflects Drake University's service-oriented community. As a result of Drake's emphasis on service, more than 80 percent of Drake students engage in service by the time they graduate and 70 percent of Drake employees volunteer every week.
"Drake University looks forward to building this model at our campus," McReynolds said. "It is our hope other universities will consider how they can incorporate a service year as an educational component central to their mission."