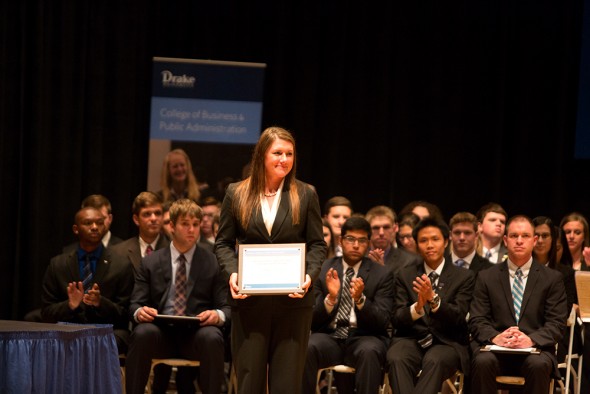 Drake University's College of Business and Public Administration honored students, faculty, and community leaders for their contributions to Drake and the business community at the college's annual awards ceremony on Wednesday, April 8.
Sunnie Richer was awarded the CBPA Community Leadership Award and served as keynote speaker for the ceremony, which was attended by more than 700 students.
Richer, a graduate of Loyola University, is the founder and chairman of Doextra Corporation. She has spent most of her career in the technology industry, starting with IBM in the 1970s and later running another software startup, Opis. During Richer's keynote address, she gave students advice on how to make the most of their first jobs.
The CBPA recognized dozens of students for their achievements in academics, leadership, and community involvement. Two students were awarded the highest honors of junior and senior student of the year.
The CBPA Junior Student of the Year is Kathryn Clausen. Clausen, from Hinton, Iowa, is a junior majoring in marketing and information systems. She is currently involved with the Drake Women's Golf team, Student Athlete Advisory Committee, and Emerging Leaders. She has also interned with Arthur Gallagher.
Jessica O'Donnell, from Saukville, Wis., was named the CBPA Senior Student of the Year. O'Donnell expects to graduate this May with a perfect 4.0 grade-point average with a degree in actuarial science and finance. She is active in Alpha Kappa Psi, where she formerly served as president, and the Donald V. Adams Leadership Institute's Leadership Academy. O'Donnell has accepted a post-graduation position with Humana in Louisville, Ky.
Four faculty members were honored for their hard work for the CBPA and Drake community.
Amy Vaughan, associate professor of statistics, was named the David B. Lawrence Outstanding Undergraduate Teacher of the Year. Vaughan earned her Ph.D. in statistics at the University of Georgia and taught there until she joined the Drake faculty in 2009.
The Outstanding Graduate Teaching Award was presented to Matthew Mitchell, assistant professor of international business. Mitchell earned his Ph.D. in International Business from the University of South Carolina. He joined the Drake faculty in 2010.
Royce Fichtner, associate professor of business law, was the recipient of the Harry Wolk Research Award. Fichtner earned his J.D. at Drake Law School. In the past five years, he has had ten papers published in various recognized periodicals, such as Journal of Information Policy and the Journal of College and University Law.
The CBPA Distinguished Service Award is presented to a retiring faculty member who has served the college for 25 years or more. The 2015 honoree was Philip Houle, who is retiring after serving the university for 41 years, including 35 years as an information systems professor.
For more information, contact Annette Watson at annette.watson@drake.edu or 515-271-4715.