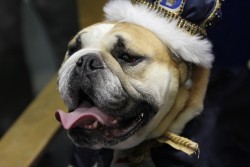 World-famous contest is scheduled for Sunday, April 19, in The Knapp Center and will be broadcast live online at alumni.drake.edu/beautifulbulldog.
Think of it as the Westminster Dog Show—with a lot more doggy drool, elaborate dog/owner costumes, and a pageant exclusively consisting of English bulldogs.
On April 19, Drake University in Des Moines, Iowa will host its 36th Annual Beautiful Bulldog Contest in the Drake University Knapp Center. Fifty English bulldogs are in the running for this year's contest, all in hopes of being crowned the 2015 Drake Relays' official mascot.
With names like Linus the LoveBug, Princess Mabel Duchess of Johnston, Zena the Warrior Princess, and Pickles, this year's contestants are guaranteed to be full of personality. Canines from across the United States were invited to take part, with competitors trekking from as far away as California, Tennessee, and New Jersey—ensuring the winner is, in fact, the nation's most beautiful bulldog.
"The Beautiful Bulldog Contest is the original, the official, accept no substitutes," said Michael Cigelman, associate athletic director at Drake University and co-director of the Beautiful Bulldog Contest committee. "There's no question about it: our Beautiful Bulldog is the fairest of them all."
Last year 18-month-old pup Lucey wowed the judges with her pretty pink tutu, cuddly demeanor, and dreams of becoming a certified therapy dog.
But this year is a whole new ballgame, and the winning pup could be costumed as a clown, a hamburger, or President Lincoln, none of which would be unfamiliar to the pageant.
"Just when we think we've seen everything, the bulldogs and their owners come up with something that's more adorable than ever," Cigelman said. "This year is sure to be full of surprises."
Judging will begin at 12:30 p.m. with the pageant to follow at 2 p.m. Admission is free. The pageant and crowning of the 2015 winner will be streamed live online at alumni.drake.edu/beautifulbulldog.
The contest has partnered with a number of animal rescue organizations, including the Illinois English Bulldog Rescue, Furry Friends Refuge, Animal Lifeline of Iowa, and AHeinz 57 Pet Rescue and Transportation, Kansas City English Bulldog Rescue, Raccoon Valley Animal Sanctuary and Rescue, Bulldog Club of Central Iowa, and Pet Project Midwest.
Media can access the event beginning at 11:30 a.m. A mult box will be available and a press conference with the winner will occur immediately follow the contest.
Doors open at 11:30 a.m. for both the public and the participants. Concessions will be available from 11:30 a.m. to 3 p.m.
Visit alumni.drake.edu/beautifulbulldog for a complete list of competitors.
For more information, contact Mike Cigelman at michael.cigelman@drake.edu or 515-271-3810.