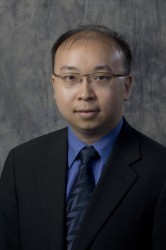 On April 16, Peter K. Yu, Kern Family Chair in Intellectual Property Law and the director of the Intellectual Property Law Center at Drake University Law School, will discuss international cooperation on drug procurement and supply at a Harvard Medical School conference. The event, which aims to identify innovations in the supply chain structure for second line drugs, will be held at the newly established Harvard Medical School Center for Global Health Delivery—Dubai in the United Arab Emirates.
Yu's presentation will draw on his research on the international cooperation among the BRICS countries (Brazil, Russia, India, China and South Africa) to facilitate global access to essential medicines. It will also feature insights from his recent book, The Global Governance of HIV/AIDS: Intellectual Property and Access to Essential Medicines, which he co-edited with Dr. Obijiofor Aginam of the United Nations University International Institute for Global Health and Prof. John Harrington of Cardiff Law School in the United Kingdom. The book was published in 2013 by Edward Elgar Publishing.
Born and raised in Hong Kong, Yu is a world-renowned expert in international intellectual property law. He serves as the general editor of the peer-edited WIPO Journal, published by the UN World Intellectual Property Organization. He also chairs the Committee on International Intellectual Property of the American Branch of the International Law Association.
An award-winning teacher, Yu is the author or editor of six books and more than 100 law review articles and book chapters. According to a recent peer study on legal citation, he is #11 among the most cited intellectual property law scholars in the United States. His scholarly publications have appeared in 10 languages, and his lectures and presentations have spanned more than 25 countries.
Under his leadership, the Drake Intellectual Property Law Center has served as a leading international hub for research and education in the intellectual property field. For seven years in a row, peer surveys conducted by U.S. News and World Report have ranked the Drake Intellectual Property Law Center among the top 25 intellectual property law programs in the United States.