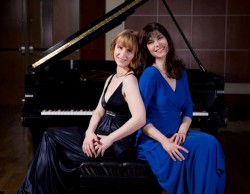 The EStrella Piano Duo will perform at Drake University as part of the Keys of Excellence series. The program includes works by Vivaldi, Bach, Daquin, Mozart and Rachmannoff. Admission is free and the concert begins at 7:30 p.m. Friday, April 10 in Sheslow Auditorium, 2507 University Ave.
The EStrella Piano Duo burst onto the musical scene in 2011 with a series of concerts celebrating great Russian masterpieces for piano duet. Elena Doubovitskaya and Svetlana Belsky share both their Russian heritage and training, and their enthusiasm for playing together. Their first performance evoked rave reviews of "technical brilliance" and "infectious joy in music making." The second drew a standing-room-only crowd. Since then, they have presented concerts and masterclasses throughout the United States.
A highlight of the 2014 season was an exciting collaboration with Clinard Dance Company for live performances of Stravinsky's Rite of Spring. The production will be touring China and Hong Kong in 2015.
Svetlana Belsky has appeared as a recitalist and chamber pianist in the Ukraine, Russia, Poland, China, Hong Kong, and throughout the United States, as well as soloist with several Illinois orchestras. Belsky has received awards for performances in international piano competitions and for her advocacy of new American music. Her recordings have been heard on radio stations worldwide, and her annotated translation of Busoni as Pianist has been nominated for an American Musicological Society award. Following her immigration from the Soviet Union, Belsky studied with Emilio Del Rosario in Chicago. She earned her Bachelor of Music degree (Summa Cum Laude) and her master's degree from the Peabody Conservatory of Music, studying with Ann Schein. Later, she earned her Doctorate in Performance from the Manhattan School of Music, working with Nina Svetlanova. As the Coordinator of Piano Studies at the University of Chicago, Belsky teaches students from four continents, among her many other academic responsibilities.
A native of Russia, Elena Doubovitskaya performed her debut recital in Carnegie Hall's Weill Recital Hall as part of Artists International Presentations, followed by numerous engagements in the United States, Germany, Austria, Italy, the Czech Republic and Russia. Doubovitskaya's accomplishments include awards from Artists International Presentations, the Seattle International Piano Competition and the Ibla Grand Prize Competition. She has performed at the Tanglewood Music Festival, Prague International Piano Master Classes and coached at the East-West Music Festival in Germany from 2002 to 2005 in addition to her regular appearances in Chicago metropolitan area. She has participated in Master Classes with Emanuel Ax, James Levine, Leif Ove Andsnes, Garrick Ohlsson, and Menahem Pressler. Doubovitskaya received her undergraduate degree from the Ural State "Mussorgsky" Conservatory in Ekaterinburg, Russia, followed by a master's degree from the Manhattan School of Music in New York City, where she studied under Solomon Mikowsky. In 2012 she earned her doctorate degree in piano performance from Northwestern University's Bienen School of Music, studying under Ursula Oppens and Sylvia Wang. In addition to an active performance career, Doubovitskaya currently serves as the piano department chair at the Merit School of Music in Chicago.
The April 10 event in Sheslow Auditorium is sponsored by Yamaha, West Music, Civic Music Association, and Drake University. For more information, contact Nicholas Roth at 515-321-5947 or Nicholas.Roth@Drake.edu