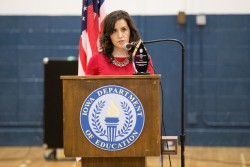 Merrill Middle School students had been told to dress in nice clothes and prepare for an important occasion. The crowd of pre-teens squirmed in the gymnasium bleacher seats, waiting and speculating and whispering. Perhaps a visit from Justin Bieber? Abraham Lincoln: Vampire Slayer? When Principal Alex Hanna entered the gym with Des Moines Public Schools Superintendent Tom Ahart and Iowa Governor Terry Branstad, it became clear that even if Justin or Abe weren't coming, something big was happening.
"The Iowa Teacher of the Year is among us right now, in this room," announced Branstad. The bleachers again began to buzz, then erupted with cheers and a standing ovation as Clemenica Spizzirri walked to the stage.
Now in her sixth year with Des Moines Public Schools, Spizzirri, GR'09, teaches all three levels of Spanish at Merrill Middle School. She's become an advocate not only for Spanish language acquisition but also for her students who are English Language Learners (ELL).
"One of the reasons I felt it was important for Clemencia to win this award, aside from the fact that she is so richly deserving, is that she has the possibility to raise awareness about educating diverse populations in our public schools," said Carol Spaulding-Kruse, a professor of English at Drake, and one of Spizzirri's mentors in the Master of Arts in Teaching program. "I recall her description of how gifted and talented students sometimes get overlooked because of the ELL label. Clemencia has worked on this issue in past years and hopes to continue to do so."
Spizzirri understands the challenges of adapting to a new culture, new education system, and new language. Born in Quito, Ecuador, Spizzirri experienced the opportunity education brings, and witnessed the inequity that a lack of education creates. "When I was a child I couldn't process why I'm in this nice private school when, for example, we go downtown and see children without shoes, selling flowers and not going to school when they should be," recalls Spizzirri, the first Latina Teacher of the Year, and the first winner not born in the United States. "Since I was really young, I saw what a difference education made, and that's why I decided to pursue my career in education."
After pursuing her passion for teaching in a low-income school, Spizzirri taught English to the police cadets in Ecuador. She moved to the United States in 2003, bringing a new perspective to U.S. education priorities. "For kids in other countries that are not as developed as the U.S., for example in my country, Ecuador, it's a simple thing to speak two languages," explains Spizzirri. "Why can't we do that, too—in the most powerful country in the world?"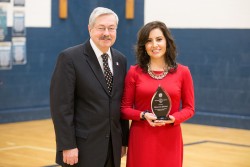 Spizzirri prepares her students to take on this challenge by equipping them with the building blocks of the Spanish language before they leave middle school. She says many of her students enter intermediate Spanish or above when they proceed to high school. Their transition doesn't mean Spizzirri's job is over, stresses Shelley Fairbairn, associate professor of education, and another of Spizzirri's mentors in her graduate program. "Clemencia holds all students to high standards and refuses to give up on them," says Fairbairn. "She even checks up on students who have gone on from middle school to high school."
That personal devotion to students was powerfully showcased in the Teacher of the Year nomination process, where three of Spizzirri's students wrote to nominate her for the award. Spizzirri was a Drake student volunteering at Lutheran Services in Iowa when she first met three brothers from Somalia beginning to learn English. The boys would later arrive in Spizzirri's classroom at Merrill, where they found a strong advocate in their new teacher.
"I didn't know who nominated me, and when I read the letters of nomination, I was in tears," says Spizzirri. "And I began thinking, teaching really is the most noble profession, because you don't know how far your impact goes."
Her influence transcends the teaching of language. Cultural Fridays in Spizzirri's classroom introduce students to Mayan numerals, the Day of the Dead, flamenco dancing, the Ecuadorian rainforest, and even aspects of students' own unique culture. "I have students who come from many different countries," says Spizzirri. I work with them so they can share what they have and what they know from their country. I call them my cultural ambassadors."
Spizzirri hopes her ambassadors will further the mission of language education, and has lofty goals for them. "We cannot let our country down. That's why I tell my students 'you guys are the gladiators of these times, because you may not be fighting in arenas, but you are fighting to bring the country back up, and fighting to bring education back.'"