Recognizing the unique relationship between Drake Law and the Iowa Legislature, the Iowa Senate and House approved a resolution on Feb. 18 congratulating the Law School on its 150th anniversary and declaring the day as Drake Law School Day.
While the proclamation itself might carry little legal weight, lawmakers, friends, and alumni echoed the sentiment at an open house event at the Iowa State Capitol to celebrate the Law School's sesquicentennial.
"I lean on the knowledge and experience I gained at Drake University on a daily basis in the legislature," said Jack Whitver, LW'12, a state senator representing Iowa's District 19 who was elected in 2011 while still a student at Drake Law. "There's no doubt that having such a quality institution in the capital city has not only benefitted me personally but also has provided state government with countless staffers and thought leaders."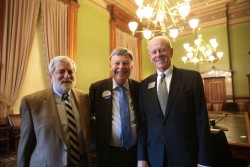 The development of this symbiotic relationship between the school and the legislature was a deliberate and intentional goal of Chief Justice Chester C. Cole when he founded the Iowa School of Law in 1865. Drake Law traces its lineage to that institution, making it one of the 25 oldest law schools in the nation, and the second oldest west of the Mississippi.
"The Law School has long prided itself for offering students real-world experience through the many opportunities for hands-on legal work in Des Moines," says Jerry Foxhoven, executive director of the Neal and Bea Smith Legal Clinic at Drake Law School. "The importance of the capital city to our founders resonates today in the lives of our students in the practical experiences they receive."
The event was the first of many to take place over the coming year celebrating the Law School's history and accomplishments. The formal kickoff of the 150th anniversary year will take place March 28 at the annual Supreme Court Banquet on the Drake campus.
"We cherish our history and applaud our thousands of alumni who work to improve their communities, wherever they may be," says Dean Benjamin Ullem, LW'69. "Completing 150 years is a good stepping stone toward the next 150. Our programs and vision, rooted in the traditions of our past, will ensure our continued success."
Visit www.law.drake.edu/alumni/?pageID=sesquicentennial for more information on events planned throughout the year to celebrate Drake Law's 150th anniversary.