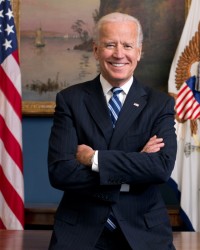 The U.S. Vice President's office announced today that on Thursday, February 12th, Vice President Joe Biden will travel to Drake University in Des Moines, Iowa to deliver remarks on the Administration's economic policies.
The visit is sponsored by The Harkin Institute for Public Policy and Citizen Engagement, the Drake University Student Senate, and the Department of Political Science. Additional details are forthcoming.
"One of the hallmarks of education at Drake is the ability to connect our students with highly accomplished practitioners in a broad range of fields. This is a wonderful chance for our students, faculty, and staff to hear from and interact with the Vice President," said David Maxwell, president of Drake University. "In addition, as an institution committed to preparing its students to be responsible global citizens,  it is vitally important that members of the Drake community have the opportunity to immerse themselves in the national public policy discourse."
Drake University is committed to an open and productive exchange of ideas, allowing free and informed discussion of political affairs. As a tax-exempt  educational institution, Drake does not endorse or oppose any political party or candidate for public office.
More information about Vice President Biden is available on the White House website at http://www.whitehouse.gov/administration/vice-president-biden.