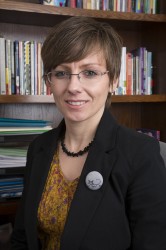 Dr. Bengu E. Tekinalp, Associate Professor of Counselor Education in the School of Education, has been elected Vice President for Counselor Education for the Iowa School Counselor Association (ISCA).  Professor E. Tekinalp states that she is, "honored and excited to be serving in this capacity."  The Drake University School of Education is very proud of Dr. Tekinalp and Drake students will definitely benefit from her leadership.
The Vice President for Counselor Education serves a three-year term, starting July 1, 2015.  This role represents student counselor interests in ISCA board decisions and is a resource for issues/topics concerning research, resources, and items in reference to higher education.
This position will also work with the other Board VP's to advance professional development opportunities for Iowa school counselors by identifying areas of interest, planning, making contacts, and /or presenting topics for webinars and the annual ISCA conference. The VP Counselor Educator also provides/updates resources and/or links related to school counseling for the ISCA website and social media (Twitter, Facebook, etc.). In addition, the VP Counselor Educator takes an active role in the ISCA Committee for Student Counselors and maintains relationships with counselor educators in the state.
The President and President-Elect also represent ISCA at the national ASCA conference, Delegate Assembly, and LDI which are held in the summer and financially supported by the ISCA Board. Board members may also be asked to represent ISCA at state or regional meetings, professional development, and other professional activities.
The mission of the Iowa School Counselor Association is to advance the academic, career and emotional/social development of all students through excellence in professional school counseling.  For more information about this association, visit their website, www.iowaschoolcounselors.org