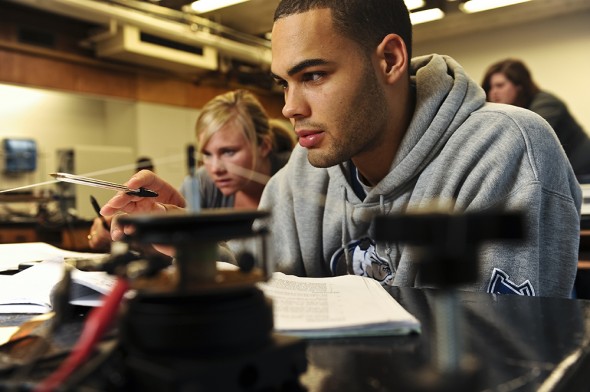 Drake University is among the nation's best colleges for students seeking great academics, outstanding career preparation, and generous financial aid according to The Princeton Review.
Drake is one of 200 schools that the education services company profiles in its new book, Colleges That Pay You Back: The 200 Best Value Colleges and What It Takes to Get In – 2015 Edition (Penguin Random House / Princeton Review).
The ranking complements other national recognition that Drake has received in the past year for value, academic quality, and overall quality by outlets including Kiplinger's Personal Finance, U.S. News and World Report, and College Factual.
"We know that career outcomes are a top concern for college-bound students and their families," said Tom Delahunt, vice president for admission and student financial planning at Drake University. "The rankings provided by The Princeton Review and other national outlets provide a limited but worthwhile glimpse into what a Drake education can offer—a value that indicates our students enjoy comprehensive success after graduation.
The Princeton Review used an original "Return-on-Education" (ROE) rating system to develop its list of 200 colleges for this new book. The company used 40 weighted data points—including academics, cost, financial aid, student debt, graduation rates, alumni salaries and job satisfaction—based on data collected in 2013–2014 from its surveys of administrators and students at 650 colleges. The company also used surveys conducted by PayScale.com through April 2014 of alumni of the same schools. Only two other Iowa colleges and universities appear in the book.
The Princeton Review editors praise Drake for awarding scholarships and financial aid to 98 percent of students, and quote from Drake students who described the college as preparing students "to not be just another member of society, but an effective member of society." The profile reports PayScale.com figures on median salaries of Drake's alumni, showing the median starting salary as $41,600 and median mid-career salary as $90,900.
National outlets consistently rank Drake University among the nation's highest values for higher education. In December, Kiplinger's Personal Finance placed Drake at No. 34 on its annual list of 100 best values for private universities. U.S. News and World Report has named Drake the third best private master's university in the Midwest for five consecutive years; only 11 of the nation's 620 master's institutions have a higher peer-generated ranking for academic quality.
College Factual this year homed in on Drake's undergraduate marketing degree, calling it the 14th best value in the United States and 34th in the nation for overall quality.
About Drake University
Drake University is a midsize, private university in Des Moines, Iowa, enrolling more than 3,300 undergraduate and 1,700 graduate students from 40 states and approximately 40 countries. Students choose from over 70 majors, minors, and concentrations and 20 graduate degrees offered through six colleges and schools. Drake students, faculty, and staff take advantage of the wealth of cultural, recreational, and business opportunities found in Iowa's capital city. In return, Drake enriches the city through its own cultural offerings, considerable economic impact, and many service-learning endeavors, which channel the talent and energy of the Drake students toward meeting the needs of the community.