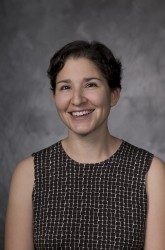 Maria Valdovinos, associate professor of psychology at Drake University, has been promoted to fellow of the American Association on Intellectual and Developmental Disabilities (AAIDD).
Fellows with the AAIDD are recognized for having made significant contributions to people with intellectual disability, or to the field of intellectual disability research, through skillful and diligent advocacy, academic achievement, program development, or administration. The association named 10 fellows for 2015.
"I have long been an admirer of this year's [other] AAIDD honorees," said Valdovinos. "They've made huge contributions to their fields. I am proud to be among such an esteemed group."
Valdovinos is a Board Certified Behavior Analyst with 20 years of experience working with individuals with intellectual and developmental disabilities. She has authored more than 50 scholarly articles, with many of these appearing in the top journals in the field. Her published studies have covered the human lifespan and multiple health conditions, including Fragile X syndrome and autism.
The 2015 Fellows are:
Elaine C. Brown, PhD, State of Nevada Developmental Services, Sierra Regional Center
Nicole Cadovius, MBA, MSM, Ability Beyond
Erik W. Carter, PhD, Vanderbilt University
Guy A. Caruso, PhD, Temple University
Judith M.S. Gross, PhD, University of Kansas
Patti N. Martin, MEd, Alabama Department of Mental Health, Division of Developmental Disabilities
David Morstad, MEd, Bethesda Lutheran Communities
Susan E. Percy, AAIDD Region X Board of Directors
Frank Symons, PhD, University of Minnesota
Maria G. Valdovinos, PhD, Drake University
Valdovinos also serves as president-elect of the Iowa Association for Behavior Analysis. As a professor at Drake University, she conducts research evaluating the effects of psychotropic medical on problem behaviors such as aggression and self-injury in persons with intellectual and developmental disabilities. That project is grant-funded by the Eunice Kennedy Shriver National Institute of Child Health and Human Development.
Founded in 1876, AAIDD is the oldest professional association concerned with intellectual and developmental disabilities. AAIDD advocates for the equality, dignity, and human rights of people with intellectual and developmental disabilities, and for their full inclusion and participation in society.
Valdovinos and the other 2015 Fellows will be formally honored at AIDD's 139th Annual Meeting, scheduled for June 1-4 in Louisville, Ken. Learn more about the organization at http://www.aaidd.org.