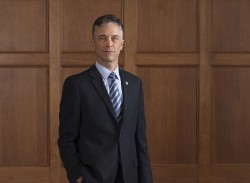 DES MOINES, IA (January 12, 2015)—Earl F. "Marty" Martin has been named the 13th president of Drake University. The Drake University Board of Trustees identified President-elect Martin as an engaged leader who will bring to Drake a passionate commitment to the liberal arts and professional education; experience enhancing diversity; a deep understanding of excellent teaching, learning, and scholarship; a collaborative leadership style; and a vision for positioning the University to thrive in challenging times.
Martin currently serves as the executive vice president of Gonzaga University in Spokane, Wash., and will succeed David Maxwell as president on July 1, 2015, following Maxwell's retirement after 16 years of distinguished service.
"With his vision and experience, Marty is well-equipped to build upon the successes the University has realized in the essential areas of fiscal and academic strength and strategic growth," said Larry Zimpleman, chair of the Drake University Board of Trustees. "We look forward to his leadership as the University advances key initiatives, including STEM@DRAKE, and approaches the completion of the $200 million distinctlyDrake fundraising campaign. President-elect Martin has also shown a keen sensitivity to the challenges that higher education institutions face today, ensuring that Drake will remain flexible and innovative while providing an exceptional learning environment."
President-elect Martin has served as Gonzaga's executive vice president since 2010, providing oversight and direction for administrative, operational, and business support functions, including the Office of Admissions, Student Financial Services, Information Technology Services, and Human Resources. He was introduced to the Drake University community during a press conference Monday and will continue to meet with the University's constituents over the coming days, weeks, and months.
"I am honored and humbled to be joining the Drake community at such an important and exciting time for the University," said Martin. "Drake is an exceptionally welcoming institution committed to its mission of preparing students for meaningful personal lives, professional accomplishments, and responsible global citizenship. I look forward to working with the Board of Trustees, students, faculty, staff, alumni, and friends to ensure that Drake is positioned to thrive in the 21st century, a time that will continue to be marked by great change and innovation."
As executive vice president of Gonzaga, Martin is leading the university's strategic planning process, linking its mission and vision to its strategic goals through well-defined performance measures. He also provided strategic direction and oversight to the Office of Admissions and Student Financial Services, helping Gonzaga achieve overall success in undergraduate enrollment and retention through the recent economic downturn and subsequent recovery.
Earlier in his tenure at Gonzaga, Martin served as acting academic vice president with responsibility for all academic programs, including the College of Arts and Sciences, School of Law, School of Business Administration, School of Education, School of Engineering and Applied Science, and the School of Professional Studies. He also oversaw the university's international academic programs and created the Center for Global Engagement to coordinate and support all global outreach at Gonzaga.
"Mr. Martin is an extraordinarily talented higher education leader and administrator," said Thayne McCulloh, president of Gonzaga University. "During his years at Gonzaga he has demonstrated an unwavering commitment to the improvement and success of the university, with significant and long-lasting results. I am certain he will be a great president for Drake."
Previously, Martin served for five years as dean of Gonzaga's School of Law. During his time at the law school, he worked with the faculty to revise the curriculum to enhance its quality and allow for more experiential learning opportunities, increased the academic profile and diversity of incoming students, and expanded international partnerships with law schools in Brazil, China, and South Korea.
Martin spent eight years at Texas Wesleyan University School of Law as both a professor and associate dean for academic affairs. Prior to beginning his academic career, Martin served for eight years as an active-duty U.S. Air Force staff judge advocate officer in England, Germany, and the United States. Martin retired as a lieutenant colonel in 2007 after serving an additional 12 years in the Air Force Reserves.
Martin holds a bachelor's degree and a J.D. from the University of Kentucky and an LL.M. from Yale University School of Law. He is married to Laura Martin and they are the parents of Cade and Case.
"Thanks to Drake's strong academic reputation and sound financial position, more than 90 highly qualified candidates expressed keen interest in Drake's presidency," said David Miles, member of the Drake University Board of Trustees and chair of the Presidential Search Nominating Committee. "I want to thank members of the Drake community for their dedication and enthusiasm during this important phase of the University's history. The presidential search process underscored the community's collaborative spirit and shared passion for Drake's mission. We could not be more excited to welcome President-elect Martin to Drake, and we know that under his leadership Drake will strengthen its position as one of the nation's finest institutions of higher education and an integral part of the Des Moines community."​
Martin was selected following an extensive national search conducted by the University Campus Committee, an 11-member committee composed of students, faculty, staff, administration, and alumni, and the Nominating Committee of the Board of Trustees. AGB Search, a nationally recognized firm that focuses exclusively on higher education leadership, advised the committees.
###
Drake University is a midsize, private university in Des Moines, Iowa, enrolling more than 3,300 undergraduate and 1,700 graduate students from 40 states and approximately 40 countries. Students choose from over 70 majors, minors, and concentrations and 20 graduate degrees offered through six colleges and schools. Drake students, faculty, and staff take advantage of the wealth of cultural, recreational, and business opportunities found in Iowa's capital city. In return, Drake enriches the city through its own cultural offerings, considerable economic impact, and many service-learning endeavors, which channel the talent and energy of the Drake students toward meeting the needs of the community.
###
SUPPORTING QUOTES
David Maxwell, President, Drake University
"I am delighted by the choice of Marty Martin to succeed me in this wonderful job as the president of Drake University. Marty is a proven leader with the experience, expertise, and vision to lead Drake to even greater levels of distinction. With Marty's leadership, Drake's students, faculty, and staff will continue to enhance the University's already strong academic and financial position and focus on our core commitment to provide an exceptional learning environment; to strengthen connections with the local and global community and fulfill the University's social compact; and to serve as a national model for excellence in higher education."
—
Thayne McCulloh, President, Gonzaga University
"Mr. Martin is an extraordinarily talented higher education leader and administrator. During his years at Gonzaga he has demonstrated an unwavering commitment to the improvement and success of the university, with significant and long-lasting results. He strives tirelessly to support the mission of the institution he serves, and it has been a privilege to have Executive Vice President Martin as an important member of my senior leadership team. I am certain he will be a great president for Drake. I wish both him and the Drake University community much success as he prepares to assume the role this summer."
—
Scott L. Morris, Chairman of the Board, President and CEO of Avista Corporation
Vice Chair, Gonzaga University Board of Trustees
"Marty Martin recognizes that to be an outstanding leader you have to have a complete view of an organization. He has brought a disciplined and methodical approach to the development of Gonzaga's long-term strategic plan: The Drake community will find he understands not just academics but student life, finance and budgeting, community engagement, and the importance of measuring the success of those strategies. He's committed to embracing the culture of an organization while bringing new and clear thinking to enhance efficiency and value."
—
Mary E. Fairhurst, Washington State Supreme Court Justice
Former Chair, Gonzaga University School of Law Board of Advisors
Former Member, Gonzaga University Board of Regents 
"Marty is energetic, enthusiastic, inclusive, the consummate professional, and a real strategic visionary. He has had experiences throughout his career that have prepared him very well to take on this next role. While dean of the law school, he brought a dedication to excellence and a plan for how the school could continue to provide excellent legal education in a challenging market, with recruitment outreach to the international community and others. I was confident in his abilities when Gonzaga smartly promoted him to university-wide administration as executive vice-president, and I know this next step as president of Drake University takes him exactly where he should be."
—
David A. Condon, Mayor of Spokane, Wash.
"Drake University is getting a tremendous leader with an amazing ability to build community and facilitate a dialogue in the toughest of situations. One of his greatest gifts to the Spokane community is the work he did as chair of a volunteer commission that took a deep, candid look at the perception and actions of the Spokane Police Department. His work during a very emotional time in our community helped us develop the roadmap for re-engineering the department and rebuilding our relationship with the citizens of Spokane. We are grateful for Marty's support and leadership in building a safer, stronger, smarter Spokane. Drake University will be in good hands."
—
Upendra D. Acharya, Associate Professor, Gonzaga University School of Law
"Marty Martin is remembered among faculty of the Gonzaga University School of Law for his support of professional development and academic freedom, for his approachability, for fostering positive workplace morale, and for his recognition and respect for diverse personal skills. The Drake faculty will find him a very collegial and inspiring president—he is one of the finest university administrators with whom I've worked."
###
Related Materials