Drake University has received a pair of prominent honors in recognition of community service by students, faculty, and staff. These honors reflect nearly 300,000 hours of service, worth millions of dollars each year, performed in collaboration with more than 100 non-profit organizations and schools, most of which are in central Iowa.
The Carnegie Foundation for the Advancement of Teaching announced Jan. 7 that Drake University has received its highly selective Community Engagement Classification, which the foundation awards in conjunction with the New England Resource Center for Higher Education. Only 361 colleges and universities hold the classification; this year's first-time recipients include 47 public and 36 private institutions, including Drake.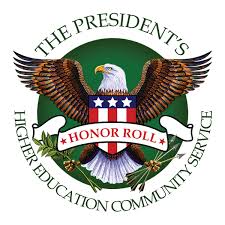 Drake also was named to the 2014 President's Higher Education Community Service Honor Roll, a White House designation last received by Drake in 2012.
"Drake's commitment to responsible global citizenship, as articulated in the University's mission statement, is deeply ingrained in the fabric of the institution and its people," said Drake University President David Maxwell. "The active engagement of Drake's students, faculty and staff in contributing to the common good is part of our DNA, and is a powerful manifestation of the role of the University in a civil society."
As a result of Drake's emphasis on service, more than 80 percent of Drake students engage in service by the time they graduate, 70 percent of Drake employees volunteer every week, and the University houses eight outreach programs that provide services including adult literacy coaching, early childhood education, ethics training, and enrichment of the local food and agriculture economy.
Drake students provided 232,682 hours of service worth an estimated $4.87 million during the 2013–2014 school year. More than 1,400 students engaged in service projects through curricular activities known as academic service-learning opportunities. An additional 2,021 students engaged in community service through student-run organizations, affiliations with non-profit organizations, or through other means.
Drake employees gave an estimated 65,520 hours back to the community in 2013–2014, at an estimated value of $1.3 million. The University supports volunteerism by offering every employee eight hours of paid community service leave per year.
Service extends all the way to the top: The nine members of Drake's senior leadership team set a strong example through seats on more than 40 non-profit boards among them.
Drake's history of responsiveness to community needs dates back to its earliest days. One early collaboration dates to 1920, when the University built the Drake Municipal Observatory in partnership with the city of Des Moines to make astronomy accessible to the general public. That observatory still stands today, with summer programming led by Drake professors that is free and open to the public.
Drake's community partnerships continue to formalize and expand. The University employs a staff dedicated to fostering and expanding community engagement and service-learning opportunities, working with academic groups and student organizations around campus.
Following are some of the University's major service projects:
Students interact with Des Moines youth through Sprout: The Des Moines Urban Youth Learning Garden on the northeast corner of Drake's campus, which serves as an environmental educational tool, urban gardening resource, and healthy food access point for students kindergarten through higher education.
More than 120 pharmacy students provide free immunizations and health screenings to members of Des Moines' underserved communities, totaling about 1,450 immunizations and 1,100 screenings each year.
Drake law students working in the Drake Legal Clinic provide free legal services for community members who cannot afford an attorney, serving more than 1,400 clients in 2012.
Seven students hold seven-week internships at central Iowa nonprofit organizations through a Summer Service-Learning and Social Justice Program. The students strive to better understand the experience of poverty by living together for the seven-week period, subsisting on the same budget that would be available to a family of five with children enrolled in a free and reduced lunch program.
"The Carnegie Community Engagement Classification announced today, and Drake's inclusion in the President's Higher Education Community Service Honor Roll, attest to the unwavering commitment of our faculty, staff, students, alumni, to community partners in Greater Des Moines and around the globe," said Mandi McReynolds, director of community engagement and service-learning. "Today's recognition is not the finish line, it is the celebratory halfway point in our journey. We are looking to chart the course ahead and plan for how Drake can continue to play an increasingly vital role within the community."