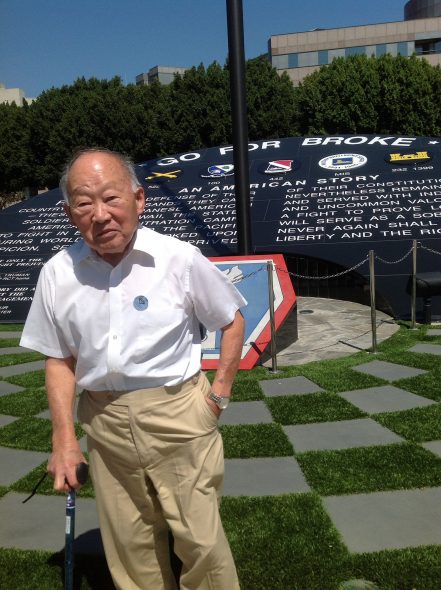 Robert Isokane, LA'53, was on a golf course in Honolulu when his life—and, indeed, the world—changed forever. The date was December 7, 1941 and Isokane was 15 years old.
The Honolulu native was working as a caddy for an Army lieutenant colonel when the colonel was suddenly called away. Soon Isokane [pronounced e-so-kahn-ay] and a friend saw planes overhead: Japanese bombers flying low enough to reveal the pilots' faces.
"If they had put a machine gun on the golf course, we could have shot them down," Isokane recently told Daniel Finney, JO'97, who shared the story for a Pearl Harbor Remembrance Day feature in The Des Moines Register.
It means a lot to Isokane to discuss World War II with people who didn't have quite so close an experience—and, specifically, to educate the public about the experience of Japanese-Americans following the Pearl Harbor attack. He first realized the importance of that history when he arrived on Drake's campus in 1952, following a career in the U.S. Army's Military Intelligence Service.
"I was surprised during my early college years that most of the Midwestern population was unaware of what happened to [the Japanese population]," says Isokane. "If teaching of the history of WWII is lacking and undisclosed in Japan, it is also woefully lacking in the U.S."
And now, 52 years later, Isokane has been able to share his story several times—first with Claudia Frazer, digital initiatives coordinator at Cowles Library, who met Isokane in his Pasadena, Calif., home this summer to capture his memories for an oral history project. He's been in frequent contact with her ever since, sharing more and more of his personal memories and historical research.
EXPLORE: A few of Isokane's letters to Frazer [PDF].
"Stories like Mr. Isokane's are so important, both for our nation's history and the history of Drake," says Frazer, who connected Isokane with Finney. "Schools should do everything they can to record the memories of their alumni, because that is where the institution's history will lie."
The Cowles Library staff has interviewed many significant figures for Drake's Oral Histories Project, including former Drake deans, administrators, and faculty members. They've also chronicled a history of gender and race relations at the University through interviews with African-American alumni and female alumni.
For Frazer, some of the most memorable stories are distinguished by small, quiet details: The streetcar that used to run from campus into downtown where students could dance in the Younkers Tea Room; the burger joint just off campus where one could first try a Coca-Cola; and the Russian language professor from the 1930s whose vest smelled of pipe tobacco.
As for Isokane, his story is still unfolding. The 1953 Drake alumnus, who graduated with a bachelor of science in education, went on to earn a master's degree at the University of Iowa in 1955. He had a long, distinguished career as a microbiologist at military hospitals and major pharmaceutical companies. In retirement he's been searching for his father's naturalization papers. A native of Japan, his father immigrated to the U.S. prior to World War I and fought for the U.S. Army as a means of expediting his citizenship.
Frazer is aiding him in that search—one more story among many that touches, and is touched by, the Drake community.