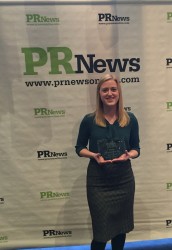 Laura Plumb, a public relations major at Drake University, has been named PR Student of the Year by PR News, a publication and online community focused on the public relations industry. Plumb, a senior from Eagan, Minnesota, received the award Tuesday, Dec. 9 at the PR People Awards Luncheon at the National Press Club in Washington, D.C.
"It's a huge honor to receive this award, especially being at the award ceremony among other PR professionals that are leading the industry," Plumb said.
Student of the Year nominees must display excellence in academic achievement in public relations, show an interest in pursuing public relations as a career, and provide an example of a strong campaign, initiative, volunteer activity, or paper that shows their passion for the field and potential talent as a professional.
Kelly Bruhn, assistant professor of journalism, said she nominated Plumb for the award because she is a model student who reflects Drake University's mission.
"We think she's a really great example of the type of student that we want at Drake," said Bruhn.
Specifically, Bruhn has recognized Plumb's efforts as a sophomore to incorporate service-learning into the Public Relations Student Society of America chapter at Drake. Each semester since, the student organization has taken on a new client each semester.
As current president of the PRSSA chapter, Plumb led a development session at the national PRSSA conference with her executive team, and was instrumental in bringing the regional PRSSA conference to Des Moines next April.
Plumb is a double major in public relations and sociology, and is heavily involved in campus organizations. She has gained real-world experience at various internships in the community, which led her to accept her first full-time position at local advertising agency Lessing-Flynn.
Plumb said she chose to attend Drake because of the many opportunities for involvement in organizations on campus and in Des Moines.
"I get to be involved in various projects and get real-world work experience in the classroom," Plumb said. "I always have something on my resume that speaks to actual experience."
At the awards ceremony, Plumb said she was able to connect with other agency professionals in the Midwest, specifically from the Minneapolis region, where she is from.