What we're up to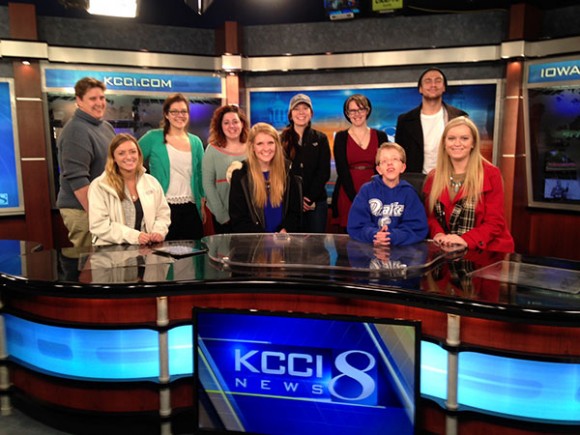 Students in J54, beginning reporting and writing, got to take their turn behind the anchor desk at KCCI-TV. Alum Amy Schmelzer hosted Carlyn Crowe's class for the 6 p.m. newscast on Thursday, Nov. 20, where students were able to observe both the studio and control room during the broadcast. Pictured from left to right are Amy Schmelzer, Jackie Walther, Anna VanWaardhuizen, Madison McConnell, Caitlyn Eames, Brooke Vaske, Taylor Atchison, Sam Crowe (guest), Cole Norum and Lauren Stanton.
Internship credit deadline
Students who had a summer or fall internship and are getting academic credit must have their supervisor's evaluation and all other materials on their internship agreement turned in by Friday, Dec. 5.
Alumni visit
When an Advertising alum entered the Knapp Center for a Fall non-conference game, he was not surprised to see a table of Drake students fielding surveys. Recently Dominic Johnson '13 traveled to Des Moines from the Twin Cities to tour the new Shivers practice facility. He had fun sharing Ad Research and Ad Capstone stories with the students in the midst of their intercept work.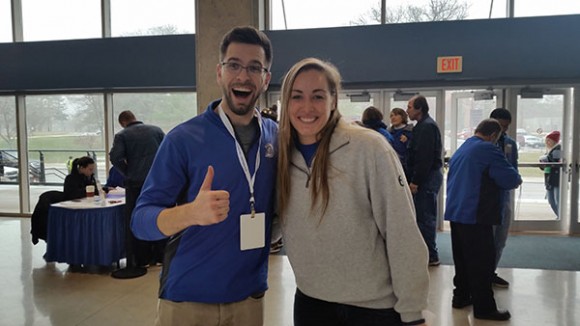 Record number of SJMC students studying abroad!
SJMC students typically have some of the highest rates of study abroad on campus, but spring semester 2015 may set a record: 25 SJMC students will be overseas, almost a quarter of the total number of Drake students studying abroad next semester. Bon voyage to our world travelers!