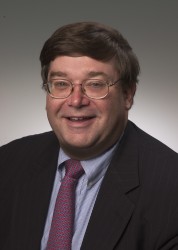 Nonpartisan political analyst Charlie Cook will deliver a free lecture at Drake University on December 10.
Cook, widely regarded as one of the nation's leading authorities on U.S. elections and political trends, will usher in the 2016 election season with insights on the key 2014 mid-term election races and a preview of the upcoming presidential race.
"An Evening With Charlie Cook" will be held from 7-8:30 p.m. in Sussman Theater of Drake's Olmsted Center, 2875 University Ave. Tickets are required and seating is limited. Attendees can reserve tickets by calling 515-271-3591 or visiting https://www.eventbrite.com/e/an-evening-with-charlie-cook-tickets-14277084143.
As national rhetoric speaks to a strict divide between Republicans and Democrats, Cook will reveal the third America—the purple America, which turned the midterm elections upside down and could potentially break the nation's political gridlock.
"As Iowans anticipate the caucus season, they are hungry for straightforward information about the political landscape and the forces that will shape the upcoming presidential election," said Marsha Ternus, director of the Harkin Institute for Public Policy and Citizen Engagement at Drake University, which is hosting the lecture. "We want to kick off our programming for the caucus cycle by providing expert nonpartisan analysis of what lies ahead."
Cook is a contributing writer for the National Journal and editor of "The Cook Political Report," a newsletter that recently celebrated its 30th anniversary and is highly respected by leaders of both major political parties. He has been a political analyst or election night commentator for CBS, CNN, and NBC News, and appeared on Meet the Press and This Week.
Prior to the lecture, attendees are invited to meet Hope Grebner, political papers archivist for the Drake University Archives. Attendees may also share their memories and stories about the Iowa caucuses and donate Iowa Caucus memorabilia to the new Iowa Caucus Collection, the only formal repository for the collection, preservation, and cataloging of historical artifacts associated with the caucuses.
—
"There is nothing in the Ten Commandments, the magna carta, or the Constitution that says Iowa has to go first. Theoretically, another state could fill that need. Because it goes first, Iowa is unique: it gets enormous attention from candidates and from the rest of the country. But Iowans also understand the responsibilities and obligations that go with being first. It means going to the community center in West Des Moines and listening to the candidates. It means asking them questions, kicking the tires."
– Charlie Cook