SJMC hits the road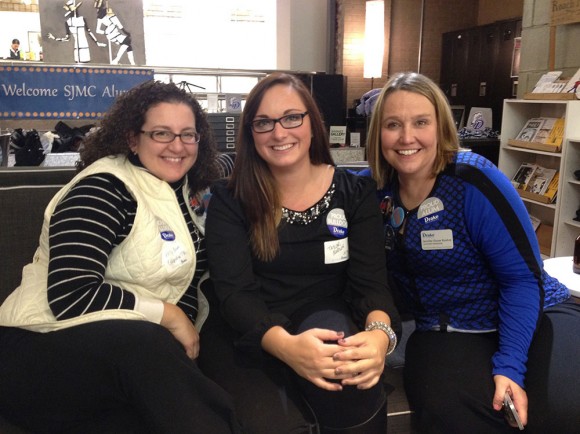 A good time was had by the hardy band of current students, faculty and alumni who braved the Polar Vortex to attend the kickoff of the SJMC Regional Road Show at the Des Moines Social Club downtown on Nov. 15. Keep an eye out for news about visits to Chicago, Kansas City and Minneapolis!
Around Meredith Hall
SJMC classes are finishing up their projects as the semester winds down . . .
The Master of Communication Leadership students in the applied theory and research class (MCL 203) presented their project to the semester's client, the Blank Park Zoo. The class gathered data about the economic impact on the zoo on the community, the guest experience, the membership experience and donor relations, in order to inform future development efforts.
MCL 201 Communication Leadership Strategies presented their leadership papers. They started the evening with a student presentation in a tattoo parlor (while the student was getting a tattoo!), and ended with meditation. Students were encouraged to find creative ways to highlight/introduce their leadership styles, and one presentation asked, "What's Your Leadership 'Secret Sauce'?" The class wore chef hats during the presentation.
JMC141 (Creative Strategies in Advertising) just finished a campaign for Wabi Sabi Farm, a local, organic farm engaging in Community Supported Agriculture practices. In the next three weeks, they will be completing applications for the Bailey Lauerman Experience (Summer Internship Program), entries for the Des Moines ADDY Awards, and preliminary background creative work for their capstone client, Pella Windows.
The final project in JMC124 (Advertising Copywriting) has students completing a multimedia campaign for the Drake Bulldog Club, a membership organization that provides support to Drake Student Athletes.
Students in JMC 143 PR Planning and Management are presenting their plans on how to best promote the new Strategic Political Communications major to their clients, Drake Admissions and SJMC administration.
JMC 123 PR Writing students completed a crisis communication challenge, complete with "reporters" on the scene.
JMC 199 (Mobile App Development) is currently working on brand extension projects for Raygun t-shirts.
New SJMC curriculum
Information sessions on the new SJMC core and major curriculums were held in the past week. The PowerPoints from those sessions will be posted on the SJMC website. There is also information about the new majors — Strategic Political Communication, Magazine Media, News and Digital Media Production — on the site as well.
The policy of Drake and especially the SJMC is that any change in curriculum must benefit students, not disadvantage them in graduating in a timely manner. Students graduate in the course of study and under the catalog in which they entered SJMC. Classes are offered so long as students need them, or we offer appropriate substitutions or waive requirements.
But students can also elect to change to the new curriculum if they want to, and many first-year and sophomore students may decide to do that. In addition, the changes provide opportunities for juniors and seniors to expand their resume by taking additional SJMC classes. Students should work with their advisers and dean's assistant Carla McCrea to choose the best curriculum for them.
Design opportunity
Pharmacy student organizations are looking for someone to design a poster for Pharmacy and Health Sciences Day 2015. The designer will receive a $25 gift certificate and recognition in the PHS Day program. For more information, contact Haley Kessinger (haley.kessinger@drake.edu).
Summer internships
Thanksgiving break is not too early to start looking into summer internships. Midwest ad agencies are starting to list activities and challenges for their competitive summer internships.
Check out some of these internships: