We rock!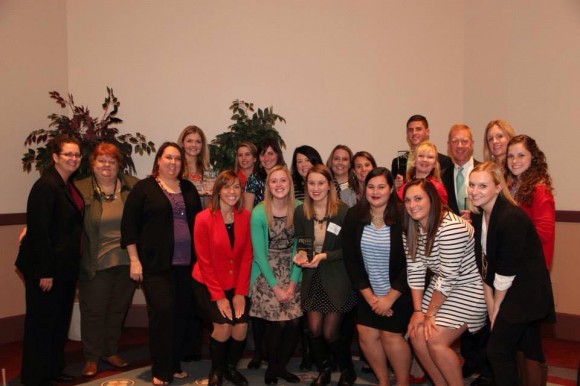 Both undergraduate and graduate SJMC students were recognized at last week's PRSA of Central Iowa PRIME Awards. The Master of Communication Leadership capstone project — a comprehensive communications plan for Big Brothers Big Sisters of Iowa — was recognized for excellence at the annual ceremony. Savana Morrison, Kelly Marble, Laura Plumb and Paige Zidek were recognized with an Award of Merit for last year's Bateman campaign. Laura Plumb, Taylor Larson and Bob Griffith received a PRIME Award for a class project.
Professor Jennifer Glover Konfrst was named "Outstanding New Member" for PRSA Central Iowa, and Laura Plumb won the annual Ferne Bonomi and Henry Milam PRSA Student Scholarship.
In addition, Plumb received the word last week that PR News has named her its Student of the Year, an award given to one PR student in the nation. The award honors an "outstanding student who has demonstrated leadership, talent and passion for public relations and communications."
Congratulations to all of our outstanding students and faculty!
We're on the go
Professor Jill Van Wyke and a group of students will head to the Associated Collegiate Press/College Media Association convention in Philadelphia this week … Dean Kathleen Richardson is at the University of North Alabama as a member of an accreditation "site visit" team evaluating the Department of Communications. … Professor Chris Snider spoke at the Iowa High School Press Association fall conference in Iowa City last week.
International visitors
We're fortunate to welcome two distinguished international visitors in Meredith Hall this week. Juan Ignacio Brito, dean, and Cristobal Fernando Benavides, vice dean, of the journalism program at University of the Andes, Santiago, Chile will be on campus Tuesday, meeting with SJMC faculty and speaking to both undergraduate and graduate classes.
Alumni corner
Katy (Karger) Michael, a 2003 News-Internet alum, was recently named one of the "40 Under 40" for 2014 by PR Week. Katy is the vice president of global communication for the shoe company Crocs, based in Denver. She is the youngest VP in the company's history. She was previously a VP at FleishmanHillard in St. Louis.