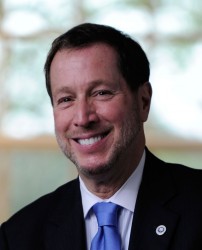 Drake University President David Maxwell will be inducted into the Iowa Business Hall of Fame, an exclusive group of leaders who have made outstanding contributions to develop and enhance Iowa's business climate.
Maxwell and this year's other inductees—Tom Aller, former president of Interstate Power & Light; and John Bloomhall, chairman of Diamond V—were selected by current Hall of Fame members to be honored during the Greater Des Moines Committee's annual Black Tie Dinner on Dec. 4 in Altoona.
"I am both astonished by and profoundly grateful for this honor," said Maxwell. "It is a wonderful acknowledgement of the role that Drake University plays in our community and in our state, thanks to the sustained engagement of thousands of students, faculty and staff in serving the greater good."
Maxwell has served as Drake's president since 1999. The Hall of Fame's selection committee noted that under Maxwell's leadership, Drake has been recognized as one of the finest institutions of higher education in the Midwest. The University's endowment has grown from $80 million to $185 million during his tenure, and annual applications for admission have increased nearly 177 percent. Maxwell also led to completion a $190-million comprehensive fundraising campaign, Campaign Drake—Think of the Possibilities, and is well on his way to completing Drake's second campaign under his leadership, the $200 million distinctlyDrake.
Maxwell has served numerous local, state, and national organizations and initiatives to advance the University and the state of Iowa. They include: the executive committee of the Business-Higher Education Forum; the boards of directors of the American Council on Education, the Association of American Colleges & Universities, the National Association of Independent Colleges & Universities and the Council on Higher Education Accreditation; the community board of Wells Fargo Bank, Iowa; both the steering and implementation committees of the Capital Crossroads Vision Plan, the Downtown Community Alliance, and the Greater Des Moines Partnership. He is currently co-chair of the Governor's Council on National Service.
"President Maxwell, for more than 15 years, has consistently positioned Drake University as the place where Greater Des Moines comes together to address complicated issues in a civil and respectful manner," said John Smith, vice president for alumni and development. "And through his vision and leadership, he empowers everyone around him to believe that Drake University—in everything it does—can serve as model of excellence within higher education."
Drake University has considerable impact on Iowa's economy. A study released in 2008 found that Drake University sparked annual consumer spending of more than $267 million and total personal income of more than $100 million; created more than 3,200 jobs, 45 percent of which were in the high-paying professional services sector; and attracted about 200,000 visitors to the area who purchased 49,000 hotel room stays and spent more than $14.5 million per year.
Maxwell plans to retire from Drake University on June 30, 2015; by the time he steps down, he will have served longer than all but two of his predecessors.
"You can't have a great city without a great university, and President Maxwell has ensured that we have both," Bill Knapp, a Drake trustee for nearly 40 years, said when Maxwell announced his retirement. "He has done a terrific job of reaching out to the business community, of recruiting, and of fundraising. Every step of the way, he's reminded this community of the vital importance of Drake University."