Cristina Garza de Castellanos is a Drake University graduate student from Monterrey, Mexico.  She is taking online courses in the Talented and Gifted (TAG) program through the School of Education.  As a teacher and a parent of four bright young sons, she wanted to learn more. She states, "I started searching for a more formal study of the gifted and through the internet I found this program. As I am learning more and more I am completely hooked." Sally Beisser, director of the TAG program, invited her to continue her studies by attending the annual Iowa Talented and Gifted (ITAG) conference October 13-14 in Des Moines. Cristina was one of 700 educators in attendance who learned about the academic and social-emotional needs of gifted students. Kathy Paul an adjunct faculty member teaching the Challenging the Young Gifted Child course, provided Cristina with research based strategies to impact her parenting and teaching goals. She is also taking the Introduction to Gifted taught by Ashley Delaney to connect theory to practice in foundational and historical background knowledge along with identification, instructional, and programming options.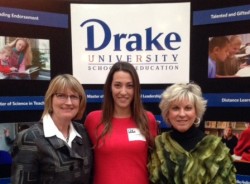 Cristina says, "I did my research about gifted and everything started to make sense to me… everything I read gave meaning and made me put the pieces of the puzzle together. There is very little research and programs for gifted in my country, now I am hoping to change that! I wanted to attend the conference to learn more and get to know more people."
She said, "My husband and I got the chance to visit the Iowa Capitol, walk around this beautiful place, watch the sunset and the amazing colors of autumn, and even catch a glimpse of four reindeers! (referring to Iowa's white tail deer!) BEAUTIFUL!"
She is an advocate for gifted children in Mexico's public and private schools. She has "come to understand the needs of these children and their families….especially since these are the kids that can lead us to a better future."
For more information about the Talented and Gifted program at Drake University, visit the website, www.drake.edu/gifted.