The Anderson Gallery is pleased to announce the opening of everyday abstraction: contemporary abstract painting on view November 7 through January 23.
Curated by Benjamin Gardner, Drake professor of art and design, everyday abstraction celebrates the visual grammar of abstraction. While a common critique of abstraction in art is that it is impenetrable, Gardner contends that abstraction is "actually one of the most powerful forms of constructing and conveying meaning." In bringing together work by five contemporary American painters, everyday abstraction showcases ways the world often communicates in a non-straightforward way – and work by artists that are responding accordingly.
Take, for example, work by Los Angeles-based, Las Vegas-born painter Brian Porray. Porray's canvases are saturated with bold color organized around ambiguous structures of diagonal lines. Spray paint, synthetic polymer and layered paper create anxiety that permeates his work, tension-laden both in media and in composition. At times his canvases recall computer graphics from the late '80s, paired with the overwhelming inundation of the senses one might experience on the Vegas strip; together, they convey a consciousness of the chaos and disorganization of our world.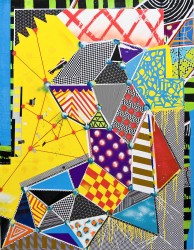 While Porray's work boldly looks out our 21st century experience, Andrea Ferrigno's work turns inward. Ferrigno, a Galesburg, Ill.-based artist, uses her work to investigate what she terms the "existential terrain" of image making. Looking to philosophy, literature and the natural sciences, Ferrigno uses abstracted organic forms to express natural systems and patterns.
Three additional artists are featured in the show: Megan Kathol Bersett of Bloomington, Ind.; Jered Sprecher of Knoxille, Tenn.; and Margaret Crowley of Chicaho, Ill.
Everyday abstraction will open with a public reception on Friday, Nov. 7 from 5-7 p.m. Gardner and two of the exhibiting artists, Brian Porray and Megan Kathol Bersett, will conduct an informal Q&A at 6:15 p.m. in the gallery. The reception will be held in tandem with numerous events planned in the Harmon Fine Arts Center in conjunction with The Comparison Project at Drake University. For more information on the evening of poetry, art and musical performances, please visit comparisonproject.wordpress.drake.edu or contact Tim Knepper, director of the Comparison Project, at 515-271-2167.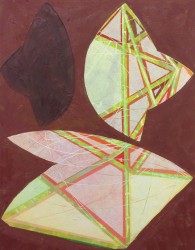 About the Anderson Gallery
The Anderson Gallery was established in 1996 as a dedicated space for the exploration of contemporary art and design. Additionally, the gallery hosts curated exhibitions of historically significant work, as well as annual showcases of student work from the Department of Art and Design. We are a not-for-profit branch of the Department of Arts and Sciences at Drake University, occupying a versatile 1800 sq. ft. space on the first floor of the Harmon Fine Arts Center.
The Anderson Gallery is open Tuesdays, Wednesdays, and Friday through Sunday, 12 p.m. to 4 p.m.; and extended hours on Thursdays from 12 p.m. to 8 p.m. We are closed on Mondays and during University holidays. For more information, contact 515-271-1994 or visit www.artsci.drake.edu/andersongallery.
Image Caption:
#1
Brian Porray
['''''5T4nD4RD C4nD13'''''], 2012
synthetic polymer, spray paint, fabric, paper on canvas
40 x 31 inches
Courtesy the artist and Western Project, Los Angeles, California
#2
Andrea Ferrigno
Reflection, 2014
Oil on panel
9 x 12 inches