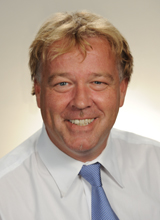 Billionaire business magnate Warren Buffett has helmed the multinational conglomerate holding company Berkshire Hathaway for 44 years. His visionary leadership has placed him among the richest men in the world, and empowered Berkshire to become the total or significant owner of companies like GEICO, Dairy Queen, Fruit of the Loom, Mid-American Energy, and Pampered Chef.
So what will become of Berkshire Hathaway and its culture when Buffett, aged 84, steps down? The answer: The company will not only survive, but thrive, says Lawrence Cunningham, the Henry St. George Tucker III Research Professor of Law at George Washington University.
Cunningham will present "Berkshire Beyond Buffett: The Enduring World of Values" on November 6. The lecture is free and open to the public and begins at 7 p.m. in Old Main's Sheslow Auditorium. During the lecture, Cunningham will examine the culture of Berkshire Hathaway and its subsidiaries to unearth the traits that assure the conglomerate's perpetual prosperity—including intangibles like thrift, integrity, entrepreneurship, autonomy, and a sense of permanence.
The presentation is part of an annual lecture series hosted by Financial Executives International (FEI) and Drake University's School of Accounting.
For more information, contact Stephen Gara at 515-271-2156 or stephen.gara@drake.edu.