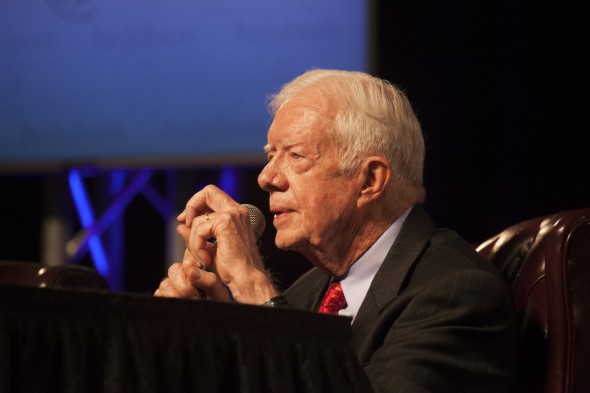 Drake University is one of 70 locations across the country to host a live webcast by President Jimmy Carter that aims to help Americans better understand the dynamic relationship between the United States and China.
The country's 39th president, who spoke at Drake in September 2012 as part of the Martin Bucksbaum Distinguished Lecture Series, is returning to campus in virtual form to deliver the keynote address of the virtual town hall, which runs from 5 to 7 p.m. Thursday, Oct. 16, Aliber Hall, Room 101, 2847 University Ave. The event is free and open to the public as part of "CHINA Town Hall: Local Connections, National Reflections," a national day of programming on China hosted by the National Committee on U.S.–China Relations.
"All Iowans will continue to be affected in deep ways by the direction of U.S.–China relations, whether we recognize it or not," said Kirk Martin, director of the Chinese Cultural Exchange Program at Drake University. "By engaging in conversation about the local and national perspectives on this relationship, we will be able to see more clearly how we can influence the direction this relationship will take."
Carter's presentation will be preceded by on-site remarks from Kerty Levy, president of Kemin Personal Care, who will give her perspective on U.S.–China relations based on 25 years of personal and professional experience working in China. Kemin Personal Care is a division of Des Moines–based multinational corporation Kemin Industries; Kerty previously was vice president of Kemin Industries and oversaw global marketing, sales, strategic planning, human resources, information technology, and internal auditing.
5 p.m. Refreshments and social gathering
5:30 p.m. Remarks from Kerty Levy
6 p.m. Virtual presentation and Q&A with President Carter
Following his remarks, Carter will respond to questions submitted via email by viewers from around the country. This event is sponsored by the Drake University Chinese Cultural Exchange Program, Drake's international business department, and Grinnell College's East Asian studies program.

Video: President and Rosalynn Carter deliver the 29th Bucksbaum Lecture at Drake University in September 2012.
MEDIA CONTACT: Aaron W. Jaco, senior media strategist, aaron.jaco@drake.edu