We rock!
The Drake chapter of the Public Relations Student Society of America was one of 10 schools selected to host a PRSSA Regional Conference in April 2015. This is wonderful recognition of our PR program and promises to put Drake SJMC even more on the national map for education in journalism and mass communication! Contact Kelly Tafoya (kelly.tafoya@drake.edu) or Taylor Rookaird (taylor.rookaird@drake.edu) to get involved in planning, sponsorship activities and opportunities to volunteer.
Samantha Boyd, a student in the Master of Communication Leadership (MCL) program and a communications specialist at Iowa State University's student health center, was awarded ISU's Professional and Scientific Outstanding New Professional Award. The selection committee noted, "Boyd's creativity and passion for building a student health brand has spread far beyond her department. The student health tagline she envisioned, 'Specializing in Students,' is evolving from a marketing campaign into a culture of student affairs excellence."
On the road
A group of Drake faculty and students are heading to Washington, D.C., this week for the PRSA International Conference and PRSSA National Conference. Both groups will learn, network and present their work during the conference events, which will include a reception for D.C.-area SJMC alums. The travelers are professors Kelly Bruhn and Jennifer Glover Konfrst, and students Mary Kelly, Kelly Marble, Laura Plumb, Scott Reeve, Taylor Rookaird and Kelly Tafoya.
Get going
The Times-Delphic will hold a staff meeting on Tuesday at 9 p.m. in Mer. 124B. Current writers and photographers as well as those interested in contributing to the T-D are encouraged to come and get to know the editorial staff. There will be free food, and it's a time to brainstorm story ideas and learn more about expectations and editing.
What we're up to
The interdisciplinary (SJMC/computer science/graphic design) app class has jumped into its second app project, which requires students to build an innovative Android application that uses a device's internal microphone.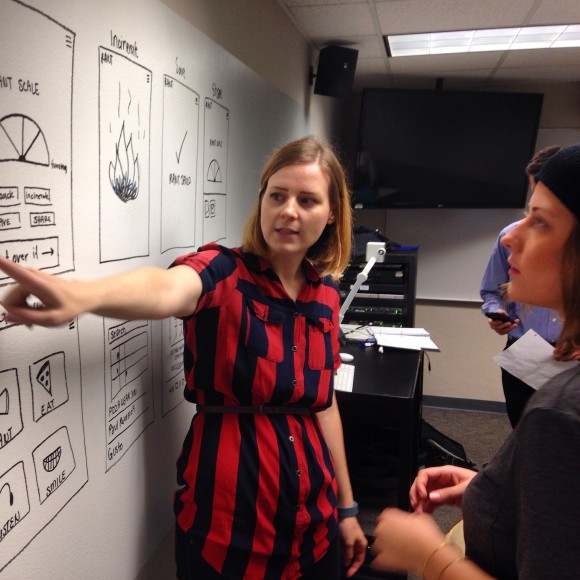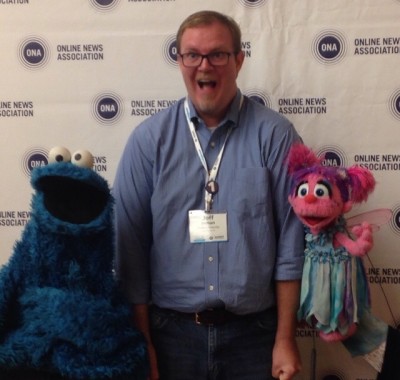 Professors Jill Van Wyke and Inman attended this year's Online News Association conference in Chicago. The conference delved into the latest advancements in online and data reporting, metric analysis, and audience engagement and retention. Van Wyke worked with students from around the country in the ONA Student Newsroom. Inman hung out with muppets and dinosaurs.
Alumni corner
Matt Vasilogambros, a 2011 SJMC grad and staff correspondent with the National Journal, spent a week reporting in Iowa last month. His series is running as part of the National Journal's "Next America" project. Some of his stories can be found here:
Matt V. will be back in Des Moines Oct. 22 as a moderator of a town hall meeting at Drake called "The Next America: Population 2043." Information and free registration can be found here.
Explore your global opportunities
Annual Drake Global Opportunities Expo will be Thursday, October 9th from 3-6 p.m. in the Helmick Commons (or if inclement weather, Pomerantz Stage in Olmsted). Learn more about global opportunities offered abroad through Drake's partner organizations and faculty-led programs, as well as on campus with Drake's World Languages and Global Ambassadors programs.
Global Learning Scholarships are available for students planning to study abroad or participate in global service-learning. These scholarships are designed to enable students to reach their full potential as responsible global citizens. Please read the scholarship descriptions to understand which scholarship(s) are appropriate for your students to pursue. Check your e-mail or blueView announcements and apply before the deadline on Wednesday, October 22, 2014.
Professors Dorothy Pisarski and Carlyn Crowe are leading a May Term study abroad class. JMC 133 International Advertising: Ethnographic Exploration and Comparison in Eastern Europe will travel to cities in Poland, Germany and the Czech Republic. For more information, contact Pisarski or Crowe.
Head's up
Advising for spring semester will begin shortly after fall break, for registration in early November. Keep an eye out for an advising sign-up sheet on your adviser's door, and/or emails from your adviser.
Alumni corner
Emily Abbas, who graduated from the SJMC PR program in 1997 and the MCL program in 2009, was recently named Chief of Staff at Bankers Trust in Des Moines. Abbas, who is head of Drake's National Alumni Association, won the University's Young Alumni Loyalty Award in 2013.
Carrie Boyd, a 2014 MCL graduate and Meredith Corporation editor, was featured in a Des Moines Register article this week about her creative promotional programming as head of the young professionals committee at the historic Salisbury House.