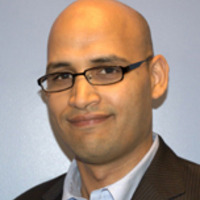 A leading expert on Islamist movements will discuss the rise and fall of the Muslim Brotherhood in a free public lecture at Drake University on October 8.
Khalil al-Anani, former resident senior fellow at The Middle East Institute, will present his talk, titled "Upended Path: The Rise and Fall of the Muslim Brotherhood," on Wednesday, October 8, at 7 p.m. in Sussman Theater, lower Olmsted Center at Drake University, 2507 University Ave. The event is free and open to the public.
The Muslim Brotherhood in Egypt is a Sunni Islamist religious, political, and social movement that is estimated to have 2 million supporters. The movement was formed in 1928; in 2011, they formed a political party known as the Freedom and Justice Party, which won nearly half the seats in Egypt's 2011-12 parliamentary election. The party's candidate Mohammed Morsi won the 2012 presidential election in Egypt, but Morsi was overthrown by the military.
Al-Anani previously served as a scholar of Middle East politics at the School of Government and International Affairs at Durham University, United Kingdom; as a visiting fellow at the Brookings Institution in Washington, D.C.; and as a senior scholar at Al-Ahram Foundation in Cairo.
He is the author of many books about Islamist movements, Egyptian politics, and democratization in the Middle East, including the forthcoming works "Unpacking the Muslim Brotherhood: Religion, Identity, and Politics" and "Elections and Democratization in the Middle East" (the latter as co-editor). He published "The Muslim Brotherhood in Egypt: Geronotocracy Fighting Against Time" and "Political Islam in the Middle East: Past, Present, and Future," both in 2007.
He writes a bi-monthly column in the pan-Arab daily newspaper Al-Hayat and in the Cairo-based Al-Ahram Weekly and is a frequent commentator on Arab and International television channels, including Al Jazeera, BBC, Al Arabiya, and Alhurra.
The lecture is sponsored by the Principal Financial Group Center for Global Citizenship at Drake University. More information and a list of PFGCGC events is available at https://wwww.drake.edu/cgc/. Upcoming events include:
Wednesday, Oct. 15, 8:30 a.m. to 3 p.m. Heartland Global Health Conference. Two keynote speakers headline the conference on climate, nutrition, and health. Parents Hall, Olmsted Center. Hosted in conjunction with Central College, Des Moines University, Heartland Global Health Consortium, and The World Food Prize. Cost is $50; free for students, faculty, and staff Central College, Des Moines University, Drake University, Iowa State University, Mercy College of Health Sciences, Simpson College, University of Iowa, University of Northern Iowa and William Penn University, as well as to Heartland Climate and Health Consortium members. Register at http://www.dmu.edu/event/gh-conference/.
Wednesday, Oct. 15, 4:30 to 6 p.m. "Tenant Farming to White House Arrests: A Scientist's Perspective on the Unfolding Climate Crisis and Opportunity." Sheslow Auditorium. Free talk by James E. Hansen, an American physicist and adjunct professor at Columbia University known for his climatology research and his testimony on climate change to congressional committees in the 1980s. Sponsored by Heartland Global Health Consortium, Iowa Renewable Energy Association, and PFGCGC.
Tuesday, Oct. 21, 7 to 8:30 p.m. Panel discussion on trade. Sussman Theater. Free talk by Jim McCaughan, chief executive officer of Principal Global Investors; Indraneel Karlekar, head of global research for Principal Real Estate Investors; and Robert Blecker, professor in the Department of Economics at American University.