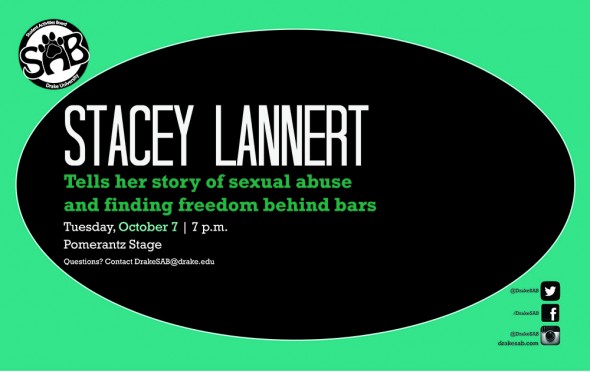 A survivor of child sexual abuse who served 18 years in prison for the murder of her father will speak at Drake University on Tuesday.
Stacey Ann Lannert will deliver a free talk beginning at 7 p.m. on Pomerantz Stage in Drake's Olmsted Center, 1245 29th St. The event is co-sponsored by the Student Activities Board and Drake's Office of Sexual Assault Prevention as part of a broader campaign by Drake students, faculty, and administrators to educate and advocate on issues of sexual assault.
Drake University recently adopted Start by Believing, a national public awareness campaign designed to change the way individuals respond to sexual assault in their communities.
"Our top priority at Drake is students' safety, and we are committed to providing our students, faculty, and staff access to information and perspectives they require to be able to provide support and crisis information to those in need," said Alysa Mozak, coordinator for sexual violence response and healthy relationship promotion.
Lannert was convicted of murdering her father when she was 18 years old. She testified in court that her father had sexually abused her from the age of 8. She was sentenced to life in prison, but released in January 2009 after being commuted by outgoing Missouri Gov. Matt Blunt.
In addition to sharing her own story—including through a memoir—Lannert now offers the chance for other victims to find their voices through Healing Sisters, a non-profit organization with a web community that offers a "resource for victims of sexual abuse to come together, share their stories, and heal their wounds."
More information about Start by Believing is available at http://www.startbybelieving.org. For information about sexual assault prevention at Drake, visit https://wwww.drake.edu/sexual-assault/.