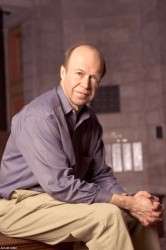 One of the nation's best-known climate scientists will give a free public talk at Drake University.
James E. Hansen, who is best known for his climatology research and his climate change testimony to Congressional committees in the 1980s, will deliver a talk titled, "Tenant Farming to White House Arrests: A Scientist's Perspective on the Unfolding Climate Crisis and Opportunity." The event is scheduled to begin at 4:30 p.m. Wednesday, Oct. 15, in Sheslow Auditorium, 2507 University Ave.
Hansen formerly headed the NASA Goddard Institute for Space Studies in New York City. When he ended that 46-year career in 2013, to spend more time pursuing climate activism and litigation, the New York Times called him the "best-known public figure" representing federally sponsored climate change research. He is currently an adjunct professor in the Department of Earth and Environmental Sciences at Columbia University.
Hansen was elected to the National Academy of Sciences in 1996 and received the Heinz Environment Award for his research on global warming in 2001. He was listed as one of Time Magazine's "100 Most Influential People" in the Time 100 (2006) list and, in 2007, was awarded the Dan David Prize. On April 5, 2008, Hansen received the PNC Bank Common Wealth Award of Distinguished Service for his outstanding achievements in science. Hansen is an alumnus of the University of Iowa.
Hansen's talk follows the 6th Annual Global Health Fall Conference: Climate, Nutrition, and Health, held from 8 a.m. to 3 p.m. on October 15 in Parents Hall, Olmsted Center, 2875 University Ave. The conference is sponsored by Central College, Drake University, Des Moines University, and Heartland Global Health Consortium. Registration is required (http://www.dmu.edu/event/gh-conference/); admission is $50 for the general public and free for students, faculty, and staff of Consortium member schools, and members of the Heartland Climate and Health Consortium.