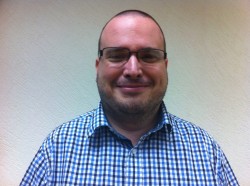 Diego Zavala, a professor of media and film studies at Tecnologico de Monterrey, Guadalajara Campus, Mexico, will discuss the role of computer technology in exploring the relationship between journalism, documentary film, and public understanding of concepts.
Zavala will deliver a free public lecture, "Interactive Documentary: Halfway Between Big Data and Filmic Narrative," starting at 7 p.m. Tuesday, Oct. 7, in Sussman Theater, lower Olmsted Center at Drake University.
Through the event, viewers will explore how journalism and documentary can be understood as complementary modes of communication. Specifically, Zavala will explain how informatics—the study of how computing technology relates to the human experience—can help understand the complementary roles of journalism and documentary film.
Zavala teaches in the Department of Communications and Digital Arts at Monterrey Tech, one of Drake's partner institutions, where his courses focus on film studies, screenwriting, television, and film production. He has published articles and essays on documentary theory, cinematic representations of war, and analysis of Mexican cinema in academic journals, essays, and media publications.
The talk is sponsored by the Principal Financial Group Center for Global Citizenship at Drake University and the Drake Center for the Humanities. More information and a list of PFGCGC events is available at www.drake.edu/cgc/. Upcoming events include:
Wednesday, Oct. 8, 7 p.m. "The Upended Path: The Rise and Fall of the Muslim Brotherhood." Public lecture by Khalil al-Anani, a leading academic expert on Islamist movements, Egyptian politics, and democratization in the Middle East. Free.
Wednesday, Oct. 15, 8:30 a.m. to 3 p.m. Heartland Global Health Conference. Two keynote speakers headline the conference on climate, nutrition, and health. Hosted in conjunction with Central College, Des Moines University, Heartland Global Health Consortium, and The World Food Prize. Cost is $30; free for students, faculty, and staff of Central College, Des Moines University, Drake University, Iowa State University, Mercy College of Health Sciences, Simpson College, University of Iowa, University of Northern Iowa and William Penn University, as well as Heartland Climate and Health Consortium members. Register at www.dmu.edu/event/gh-conference/.
Wednesday, Oct. 15, 4:30 to 6 p.m. "Tenant Farming to White House Arrests: A Scientist's Perspective on the Unfolding Climate Crisis and Opportunity." Sheslow Auditorium. Free talk by James E. Hansen, a former NASA physicist and adjunct professor at Columbia University known for his climatology research and his testimony on climate change to congressional committees in the 1980s. Sponsored by Heartland Global Health Consortium, Iowa Renewable Energy Association, and PFGCC.
Tuesday, Oct. 21, 7 to 8:30 p.m. Panel discussion on trade. Sussman Theater. Free talk by Jim McCaughan, chief executive officer of Principal Global Investors; Indraneel Karlekar, head of global research for Principal Real Estate Investors; and Robert Blecker, professor in the Department of Economics at American University.