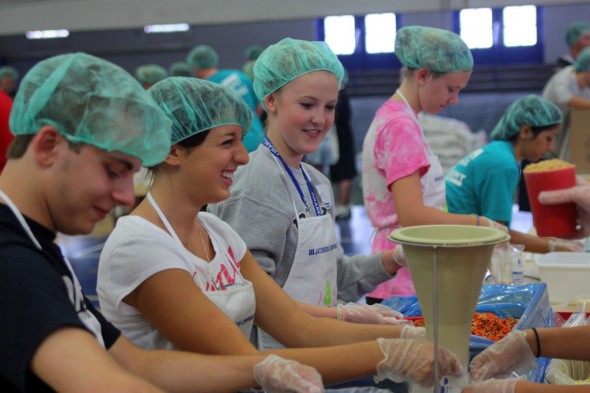 Each day, more than nearly 390,000 Iowans are affected by hunger. Drake University is partnering with local food pantries and providers this month on a series of events aimed at raising awareness of food insecurity at the state, national, and international levels. Events are free and open to the public.
"Drake University takes seriously its mission and responsibility to create engaged global citizens," said Mandi McReynolds, director of community engagement and service-learning at Drake. "The project is one formal avenue to support students, faculty, staff, and community members to discuss and explore relevant global issues."
Tuesday, Oct. 7
Representatives from five local food agencies will meet at 7 p.m. in the Cowles Library Reading Room for a panel discussion titled "Meeting our Needs: Food Insecurity and Hunger," moderated by Mandi McReynolds, director of community engagement and service-learning at Drake. Panel participants will include:
Hilary Burbank, refugee community services program supervisor, Lutheran Services of Iowa
Bryce Dorff, Drake service-learning ambassador for Sprout: Des Moines Urban Youth Learning Garden
Carmen Lampe Zeitler, executive director of Children and Urban Family Movement
Valerie Miller-Coleman, minister of community engagement at Plymouth United Church of Christ
Matt Russell, state food policy project coordinator at the Drake Agricultural Law Center, representing Buy Fresh, Buy Local and Plant a Mile
Sarai Schnucker Rice, executive director of Des Moines Area Religious Council
Thursday, Oct. 16
Three Drake faculty members will facilitate a public screening and discussion of "A Place at the Table," an award-winning documentary film that explores the economic, social, and cultural implications of hunger in the United States. The screening begins at 7 p.m. in Sussman Theater, lower Olmsted Center. Moderated by Carlyn Crowe, visiting assistant professor of journalism; Michael Haedicke, associate professor of culture and society; and Amahia Mallea, associate professor of history.
Now through October 17
Cowles Library is publicly displaying "Against the Odds: Making a Difference in Global Health," a traveling banner exhibit from the National Library of Medicine and the National Institutes of Health. The exhibit in the Cowles lobby uses historical and contemporary photographs to highlight the role of communities in improving health at home and around the world.
This event series at Drake University is sponsored by the Slay Fund for Social Justice. The Slay Fund was launched by a gift to distinctlyDrake from Brent, ED'70, and Diane, ED'70, Slay. The fund supports Drake programs that advance social justice.
Cowles Library is also collecting donations for local food pantries in two large red buckets in the lobby.
Click here for an event series brochure (PDF, 1MB)