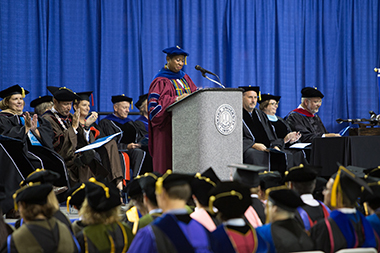 What does it mean to be a part of the Bulldog family—to say to the world, "I am Drake?"
The University's Class of 2018 is now wrestling with such big questions this fall as they settle into residence hall life, meet new friends, and expand their world through college coursework. Two days after moving in, on the Friday before their first day of classes, these bright young minds crowded into the Knapp Center for Fall Convocation. There they heard University leaders' perspectives on defining Drake and its student body.
"Drake is the place where students figure out what their dreams for themselves are, and Drake launches them on the trajectory to making those dreams a reality," said President David Maxwell. "I hope you've already started dreaming in the last two days, and that those dreams will continue to fill your entire being with limitless aspirations, excitement, wonder, and curiosity—and the confidence that your dreams are going to come true."
VIDEO – Anthony Pawnell, sophomore law, politics, and society major, issues a rousing welcome in the form of spoken-word poetry.
Matthew Mitchell, professor of international business and strategy, drew references from The Bible, Leo Tolstoy, and Eminem—and closer to home, from the stories of numerous students and alumni—to paint a portrait of Drake students as curious, ambitious, adventuresome, pragmatic, and intelligent.
He cited a Drake alumnus, aptly named Drake, whose career has taken him from Australia to New Zealand and back to the United States, where he became one of the top three sales representatives for a global company within only two years on the job.
He recalled two young Drake alumni who met while studying sustainable development in Uganda. Three years later they were engaged to be married and had partnered with Drake faculty and students to open a health center in rural Uganda.
"These stories of curiosity, ambition, hard work, service, and resilience inspire me… and I hope they inspire you. These people—and the characteristics they embody—are what makes Drake so special."
Selchia Cain, senior public relations major, implored her classmates to challenge their definition of self through education, inquiry, service, and experimentation.
"Be confident in who you are now, but don't be comfortable," said Cain. "Striving to be the person you are destined to become takes continual work and the desire to push beyond your comfort zones…If what follows your 'I am' statement is the same cluster of words during your freshman year as it is during your senior year, then you have hindered yourself, because you have chosen to remain stagnant."
At Drake, said Cain, students of many different backgrounds, personality types, and interests interact to pursue common goals.
"I can guarantee that you will meet students at Drake University who are not only leaders on campus but also in the community," she said. "You will meet students who are engaged introverts and problem-solving extroverts. You will discover students who are competitive but also uplifting."
Deep down, said Cain, the Drake student body shares important traits, including intelligence, curiosity, and desire to make a difference—many of those same elements Mitchell had identified in his remarks.
And ultimately, as Mitchell told the group: "You own our future, and you will leave your unmistakable mark upon this place."
View the full commencement ceremony below, followed by a transcript of Mitchell's remarks.
—
"I am Drake" – Fall Convocation remarks by Matthew Mitchell, professor of international business and strategy
First of all, let me offer a heartfelt thank you to our own President David Maxwell, who has served the cause of Drake Bulldogs all around the world so faithfully during his long and successful tenure as president.
I'd also like to thank Dr. Dee, whose lifelong example of servant leadership and quiet strength are inspiring both personally and professionally.
Thank you to the administration and staff represented here, whose shared vision and clear-minded decisions carry this institution forward every single day.
And thank you to my fellow faculty members, who have the distinct honor and responsibility of changing our world—one student at a time.
We are all Drake University.
And now, thank you to you…our new students and our guests of honor, whose abilities, energy, and enthusiasm are simultaneously boundless and contagious. You own our future…and you will leave your unmistakable mark upon this place.
Now, you are also Drake University.
Engage the World—Change the World
I currently teach International Business and Strategy, but I also like to say that I am a recovering physicist. My first degree was in physics and math and I used to teach those subjects in high school…Unfortunately, that's an experience from which I have never fully recovered.
Back then, I remember my classes usually started with the phrase, "Please get out a pencil and paper…" but that is not how my classes start today. Today I would like to ask you to get out your cell phones. Please feel free to take notes, tweet, text, Snapchat, Vine, Instagram or just milk your cows on Hay Day…I have to confess that I've already tweeted this convocation from the stage, so right now you're in the no-judgment zone.
You see, I believe that if your forehead isn't glowing, then I am not doing my job. If you're not engaging, interpreting, critiquing, adding, and sharing your own re-contextualized knowledge and experiences with the world, then I—and we—have missed an opportunity.
If you don't take this opportunity to change the world you live in, to change your community, to change your University—right now—then our time here is for naught.
This is your message. This is your time. Use it wisely.
Ecstatic—One Opportunity
I must tell you, I am thrilled to be here…and "thrilled" isn't even the right word…I am ecstatic! You have been working and planning for this day for your entire life, and you are now here…and you are now ready.
We have also been working and planning for this day our entire lives, and we are now here…and we are now ready.
Every single person in this room has spent countless days, weeks, months, and years preparing for this precise moment, and we can all be confident that our effort has not been in vain.
To whom much has been given, much will also be expected (Luke, 12:48)…and I know each of us will make the most of these next four years…but, before we get started, let me ask you this one question: "Look, if you had one shot, or one opportunity…to seize everything you ever wanted…in one moment. Would you capture it or just let it slip?" (Eminem, 2003)
I happen to believe you will take that opportunity, because you are now—officially—part of the Bulldog Family.
You are Drake University.
Three Part Outline
Like any good college essay, this speech has three parts—an introduction, body, and a conclusion.
This is the introduction—The theme is "I Am Drake," and just so you know, I've foreshadowed the conclusion…so stay tuned.
The body of the speech comes next and will outline what makes Drake special. It is a collection of stories about curiosity, hard work, service, ambition and resilience…
And finally, the conclusion is an invitation for you to write the next chapter of Drake's history…and I have a feeling this will be the most exciting chapter…for our best days lie ahead.
Drake University Mission
So, what is it that makes Drake University so special?
Well, as a student and professor of strategy I'd probably draw your attention to our Mission Statement. You may have already heard it, but it bears repeating:
Drake's mission is to provide an exceptional learning environment that prepares students for meaningful personal lives, professional accomplishments, and responsible global citizenship.
I like that part.
The Drake experience is distinguished by collaborative learning among students, faculty, and staff and by the integration of the liberal arts and sciences with professional preparation.
I actually like that part, too, because that is why I'm here.
This mission statement represents what makes Drake University special—but it is not the entire picture. These values and traditions lie at the core of who we are and what we do, and they have successfully guided our institution throughout the years. I hope you'll take the time to learn and experience these traditions for yourself and seek to make these goals your own…because—after all—you are Drake University.
Vision, Aspiration and Change
I might also draw your attention to our Vision Statement that stakes out ambitious goals like being a "premier university" and a "leader in higher education." I believe we are achieving those goals and can be proud of our accomplishments. In the International Business program, our unapologetic goal is to be the best in the world, and I have every intention of delivering upon that promise for our students.
Throughout their four years here, our DrakeIBiz students will learn about the world, they will experience the world, and they will change the world—and in the process, they themselves will also be changed. Upon graduation our graduates will get the top jobs in their fields, and they will set the standard for excellence at home and abroad. Is this ambitious? Absolutely, you bet it is ambitious…but hey, we're Drake University.
Drake Distinguishing Characteristics—Our People
So, what else makes Drake University special? You do… and we do… our people are what continually refresh and strengthen this institution so let's talk about you… and lets talk about us!
DRAKE: When I think about what makes Drake University special, I think of a student named Drake. True story…his name is Drake and I had him in my very first class as a professor here. In addition to having an awesome name, he was and continues to be a curious student and an ambitious leader. He graduated and took a great job, then gave it up to go work in Australia and New Zealand. Upon returning to the United States, he leveraged his international experience to get a sales job at Pella Doors and Windows in Chicago. In only his second year on the job, he was one of the top three sales reps for the entire global company. Drake is curious and ambitious, and it goes without saying that Drake is Drake University.
ANN AND NATE: When I think about what makes Drake University special, I also think about Ann and Nate who met on a study abroad trip to learn about sustainable development in Uganda three years ago. This summer I received a note entitled "It all started in Uganda" letting me know they were recently engaged to be married! I also think about the faculty who make that one-of-a-kind program possible and who recently partnered with our students to open the Kikandwa Health Center in rural Uganda. I will tell you right now, there is no other university that offers a program like ours in Uganda—no one even comes close. The only reason we have such a program is because of the hard work, patience, and dedication of a very special team of faculty and staff who dared to dream about a transformational strategic partnership between Drake University and Makerere University Business School in Kampala. One of my favorite Russian authors, Leo Tolstoy, once said, "The vocation of every man and woman is to serve other people…" Ann, Nate, and these very special faculty and staff have chosen a life of service—and they are Drake University.
WILL: I also think about a young man named Will, who approached me during the summer before his freshman year and said he wanted to be an international business professor. We came up with a plan and have worked together for four years writing papers and conducting research on topics such as the life insurance industry in India and China, or corruption in FIFA. He has written and presented papers all over the world, won awards for his scholarship, and is already recognized and regularly mistaken for a professor at academic meetings—even though he's only an undergraduate senior! In addition to his academic pursuits, Will is also a soccer coach for Dowling High School and Simpson College, he is studying for the LSAT and GRE, he's applying for the Rhodes and Marshall scholarships, and majors in international relations and history with minors in business administration and economics. Will works smart and Will works hard…Will is Drake University.
MOLLIE AND BROOKLYN: Finally, I think about Mollie and Brooklyn, who studied abroad in Chile last spring semester. They are both from Iowa, and they both chose to get out of their comfort zone by making the decision to study abroad in Chile…I hope you will also make that choice to study abroad during your time here. Every single student that studies abroad comes back and tells me that is was the best decision of their lives. Mollie and Brooklyn were also rewarded with experiences that will change their lives forever. Mollie volunteered as an ambassador for the Institute for Study Abroad, and Brooklyn capped off her study abroad experience with an internship at the Principal Financial Group in Santiago, Chile. Brooklyn and Mollie are risk-takers, and they are resilient…and they are Drake University.
My Own Drake Story
These stories of curiosity, ambition, hard work, service, and resilience inspire me… and I hope they inspire you. These people—and the characteristics they embody—are what makes Drake so special. But these stories also cause me to reflect upon my own Drake story…
What is my Drake Story? Well, let's just say that I could tell you about being curious enough to sell everything I owned to travel around the world—running with the bulls, hiking the Great Wall of China, buying a motorcycle in New Delhi and riding it into the Himalayas to visit the Dali Llama. Yes, I'm curious.
I could tell you about my ambitions to understand the relationship between religion and business … and how that academic investigation embodies Drake's integration of the liberal arts with professional preparation. Yes, I am ambitious.
I could tell you about the countless hours of hard work we have all undertaken to prepare for your arrival.
I could tell you about the preeminent need for resilience and how I have personally experienced the love and support of the Drake University Family after my baby daughter—Katherine Elizabeth Mitchell—passed away two years ago.
I could tell you how my wife has taken that tragedy and transformed it into a wonderful blessing through her charity—Blessings in a Backpack—that provides food to local school children.
I could tell you about those things, but I won't…I know my Drake story, and today is about your Drake Story!
Make Drake University Your Own
Now, I'd like to finish by asking you, "What will be your Drake story?" What talents, ambitions, opinions, and experiences will you add to this, our creative melting pot that is Drake University?
Everything I have said about our theme "I Am Drake" in a sense ends right now. From this moment on, it is your decisions, ideals, and passions that will determine what Drake University will become in four years and beyond.
You have our support. The administration, faculty, and staff will be with you along your journey offering guidance and support. But make no mistake: It is you, the students, who will determine your own personal destiny. You will determine the destiny of your future alma mater.
As we say in the DrakeIBiz program, "The world is not enough…" So… today… go into the world, and make it yours!
Welcome to Drake University!