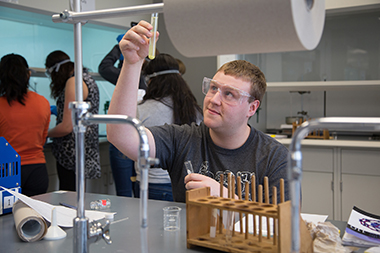 As the classroom lights dim, students gather around a touch screen board displaying a webpage of the previous day's homework assignment. While one student looks up a formula on their tablet, another posits a new way to solve trigonometry using a graphing calculator function. Collaborative, infused with technology, and evolving, science and math education isn't what it used to be.
Drake University's School of Education is rapidly adapting to educational innovations with a new endorsement that debuted this fall. The STEM (science, technology, engineering, and math) endorsement aims to equip future educators with the tools they'll need to teach science- and math-related disciplines.
"It's really about broadening the experiences and knowledge base of our future teachers," says Jerrid Kruse, an assistant professor of science education and co-author of the endorsement. "It's giving them more experiences with STEM and getting them more time to practice and reflect upon STEM teaching. Overall, it's about making them better teachers."
The endorsement is available in elementary, middle school, and specialist variations. Curriculum requirements include credit hours in science, math, computer science, and STEM curriculum and methods. With an interdisciplinary focus on both content and teaching methods, class options include specially designed courses such as Inquiry and the Nature of Science, Technology, and Engineering; Methods of Engineering and Technology Design; and Math Practices.
With such innovative courses, Drake's STEM endorsement presents students with a unique competitive edge over their peers. "Drake is the first, and I think still the only, school in Iowa to have this endorsement," says Tonia Land, assistant professor of mathematics and technology and the endorsement's other co-author.
The endorsement is offered in a broader context of learning advancement at Drake. A new campus building will soon house the School of Education and the math and computer science departments, and simultaneously link the trio of disciplines with Drake's science departments. The interconnected, multidisciplinary STEM@DRAKE complex—with its E for education—will allow future educators to learn alongside future scientists.
Reception of the endorsement and STEM developments on campus has been positive, and both Kruse and Land feel more growth is possible.
"I feel like much of the focus right now is going towards secondary education, and I would like to see more attention on K-8 focus as we progress," Land says. "My wish is for the disciplines of science and math to not be so privileged. Overall, I want STEM concepts to be accessible to all students."