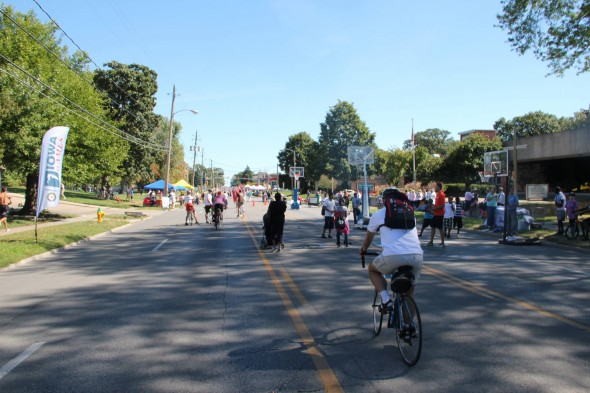 Join Drake University at DSMove: Des Moines Open Streets for the largest block party in Des Moines!
From noon to 4 p.m. this Sunday, Sept. 28, University Ave. will be closed for a block party, stretching from 23rd Street to 40th Street. The street will be filled with nearly 100 different organizations, sharing music, food, activities, games, and more.
Want to get involved? DSMove is looking for volunteers to help with the Drake activities from distributing cotton candy to riding the world's largest bicycle. Volunteers who offer to assist with barricades will receive a free DSMove t-shirt. Sign-up to volunteer online.
The Drake event schedule can be found below:
¬
26th Street block:
1¬–1:30 p.m. Zumba
2–2:30 p.m. Cardio Kickboxing
3–3:30 p.m. Yoga (Bring your own mat)
27th Street block:
Noon–1 p.m. Drake Cheer Team
1–4 p.m. Drake Basketball
3–3:30 p.m. Drake Dance Team/ Spike
28th Street block:
RaySociety
Drake water bottle distribution
29th Street block:
Painting the street with chalk art
31st Street block:
12:15–12:45 p.m. Fermatta the Blue (a capella group)
12:45–1:15 p.m. Brocal Chords (a capella men's group)
1:15–2:15 p.m. Sweetheart Sing winners
For more information check out http://dsmove.org or contact Renee Sedlacek at 515-271-2454 or renee.sedlacek@drake.edu.