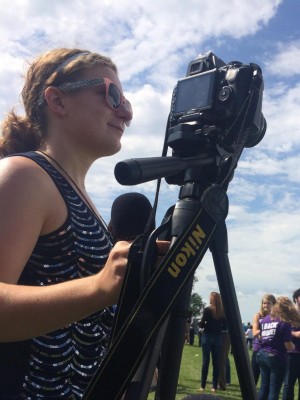 Seven SJMC students covered the 37th – and final – steak fry hosted by retiring Iowa Sen. Tom Harkin on Sept. 14. This year's guests were Hillary and Bill Clinton. The event drew a crowd estimated at 10,000 – and more than 200 journalists – to Indianola, Iowa.
The students logged a seven-hour day of reporting, writing, shooting photos and video, and tweeting. They also rubbed elbows with media "celebrities" such as NPR's Don Gonyea, PBS's Judy Woodruff and NBC's Andrea Mitchell.
The students are enrolled in a reporting class taught by Jill VanWyke. The course is a combination of the Radio News Reporting class and Public Affairs Reporting class and consists of broadcast news and news-Internet majors.