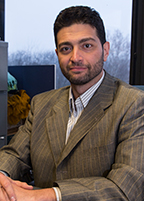 Mahmoud Hamad, associate professor of politics at Drake University, spent the month of July commenting on news in the Middle East and U.S.-Arab relations for both Al-Jazeera and Al-Jazzera English.
Listen to his commentary by clicking on the following links:
• Gaza truce: Is Egypt an honest broker?
• Sisi: Fuel for a backlash?
For more information, contact Mahmoud Hamad at mahmoud.hamad@drake.edu or 515-271-2845.