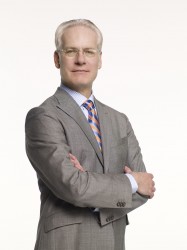 Tim Gunn, star of Project Runway and Tim Gunn's Guide to Style, has been chosen as the 33rd lecturer for the Martin Bucksbaum Distinguished Lecture Series at Drake University. "An Evening with Tim Gunn" will take place on Wednesday, Sept. 17 at 7 p.m. in the Drake University Knapp Center. The lecture is free and open to the public. Announced 9/15: The lecture will be streamed live online. Watch for a link at www.drake.edu/bucksbaum. 
Gunn is most recognized for his role as co-host on the six-time Emmy-nominated Project Runway, a reality-based fashion design show originally airing on Bravo. He also stars in Bravo's Tim Gunn's Guide to Style, a two-season makeover show. Off camera, Gunn serves as chief creative officer of Kate Spade & Co., where he is responsible for attracting, retaining, and developing the creative talent within the company's portfolio of brands.
Gunn is a sought after fashion expert, helping NBC's Today show and Entertainment Tonight cover the red carpet for the Academy Awards, Emmy Awards, and the Golden Globes. Additionally, he has written articles for Elle, Seventeen, People, US Weekly, and Fortune and has a monthly feature in People Style Watch and Marie Claire. In 2006, he was named one of People magazine's "sexiest men alive."
Gunn's first book, A Guide to Quality, Taste and Style, was the core of the show "Tim Gunn's Guide to Style." His new book, Gunn's Golden Rules, was released on September 7, 2013 and rose to No. 5 on the New York Times bestseller list. The paperback version will be released in the fall.
Announced 9/15: Don't miss your chance to walk the blue carpet!
No VIP pass required! Join Drake University and Star 102.5 for a pre-lecture event outside the Knapp Center, beginning at 5 p.m. Strut your stuff on Drake's very own blue carpet runway, snap photos in front of Drake's press backdrop, and meet your favorite radio personalities from Star 102.5. Come as you are or dress to impress, the blue carpet pre-party and lecture are both free and open to the public.
Visit www.drake.edu/bucksbaum for more information.
About the Martin Bucksbaum Distinguished Lecture Series
The Martin Bucksbaum Distinguished Lecture Series is made possible by a gift from Melva and the late Martin Bucksbaum, longtime member of Drake's governing board. Martin Bucksbaum Distinguished Lectureship Committee: Neil Hamilton (chair), Julian Archer, James Autry, Pamela Bass-Bookey, Melva Bucksbaum, Michael Gartner, G. David Hurd, Janis Ruan, Mary Bucksbaum Scanlon, and Eleanor Zeff.