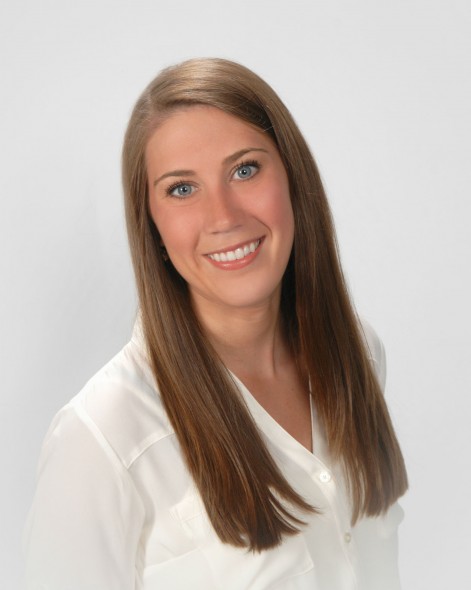 The College of Pharmacy and Health Sciences (CPHS) presented Natalie Schmitz with the 2014 Karbeling Memorial Leadership Award. Schmitz was honored during the Doctor of Pharmacy Hooding Ceremony held in May.
The Karbeling Memorial Leadership Award is given annually to one full-time Pharm.D. student. The Drake University pharmacy class of 1974 created the award in memory of Jerry Karbeling, PH'74, who is remembered as an inspiring pharmacist, patient advocate, and community and professional leader. Recipients of the award demonstrate leadership in one or more of the following areas: professional education, association work, community service, and pharmacy practice.
"I am extremely honored to have been selected for the 2014 Karbeling Leadership Award. Being associated with Jerry Karbeling is truly an honor," says Schmitz. "Jerry gave his all in everything he did. I hope to carry this legacy forward, continue to go the extra mile, and encourage those around me to do the same."
As the award recipient, Schmitz received a commemorative plaque and financial support to attend a national meeting where she will have the opportunity to further her professional involvement.
"Natalie is an outstanding student and emerging professional, and we are incredibly proud of her professional involvement and commitment to practice," says Renae Chesnut, professor of pharmacy practice and associate dean for academic and student affairs.
"Natalie is an excellent choice for the Karbeling Award because she embodies what Jerry Karbeling was known for—professionalism, service, and unwavering leadership and dedication to the pharmacy profession."
Schmitz is not new to being recognized for her contributions as a pharmacy student. In 2013, she was one of three finalists in the national Next Generation Pharmacist of the Year—Future Pharmacist of the Year category organized by Parata and Pharmacy Times. She has also served as a legislative intern for Iowa State Sen. Jack Hatch, where she had the opportunity to advocate for pharmacy in the political arena. She has also been involved in special research and education projects with Drake faculty and the Iowa Pharmacy Association.
Following graduation, Schmitz will pursue a Ph.D. in the experimental and clinical pharmacology (ECP) graduate program at the University of Minnesota.
"My enthusiasm for treatments, quality healthcare, and the generation of new knowledge has motivated me to pursue my Ph.D.," says Schmitz. "I am particularly excited about the opportunity to work with my ECP faculty in the Center for Orphan Drug Research."
For more information, contact Renae Chesnut at 515-271-3018 or renae.chesnut@drake.edu.