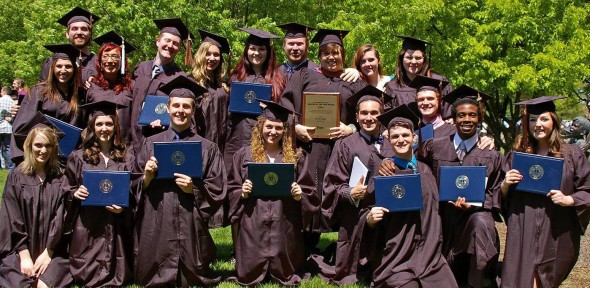 All of Drake's theatre majors who graduated with a bachelor of fine arts in spring 2014 had secured paid work in their chosen field by graduation, reports Karla Kash, associate professor of theatre. All of them.
"This class has been so successful because of their palpable hunger for the arts, their desire to grow, and their insatiable work ethic," says Kash, who was honored at undergraduate commencement as the 2014 recipient of the Madelyn M. Levitt Mentor of the Year award. "I am not sure about other theatre departments nationally, but I do know it is very tough to get paid gigs in the performing arts at all, and especially right out of undergrad."
The theatre department at Drake has a strong history of success, focusing on technique, methodologies, and style. But what sets the department apart is the time and effort faculty put toward preparing students for show business.
Drake awards bachelor of fine arts degrees in theatre acting, theatre arts, theatre design, theatre directing, and musical theatre. Students can also major in theatre arts with a teaching certificate or minor in theatre. Visit
https://wwww.drake.edu/theatre
to learn more.
"Many programs have excellent training but very little practical skills development about how to earn a living as a professional actor," says Kash.
Adam Meirink, who will be performing at Allenberry Playhouse following graduation, says he's learned that success in this industry takes more than talent.
"Our professors have done an incredible job preparing us for life after graduation by always being available to prep us for auditions or just talk to us about our own personal growth and career aspirations," says Meirink. "This industry is incredibly demanding and takes more than acting skills and vocal training; it requires tenacity and a tremendous work ethic—things that I have learned during my time at Drake."
Beginning in their first year at Drake, students have the opportunity to perform mock auditions for guest directors like Jeremy Rich, who has cast many Broadway musicals and plays as well as big budget Hollywood films, including Dreamgirls.
By the time the students are seniors, they know how to market themselves, how to not take casting personally (to have thick skin—probably the most important requirement for the performing arts, says Kash), and how to behave as a professional.
Students and faculty agree that Drake's location in Des Moines also reaps serious benefits for theatre students. Des Moines has the cultural hubbub that attracts theatre majors to places like Chicago and New York but with more opportunity to gain pre-professional work before earning a degree.
"Drake students aren't competing against professional actors like students in Chicago and New York might be," says Kash. "So they exit Drake with professional work already on their résumé."
Kash says Drake's location has been instrumental in her recruiting efforts.
"Students don't know what Des Moines has to offer until they visit," says Kash, who has spent significant time, energy, and money on recruiting individuals for the theatre program. Kash visits theatre festivals across the country, recruiting nine students from the International Thespian Festival last year alone.
"Taking a hands-on approach to recruiting has been so important," says Kash. "Drake has so much to offer, and it's been my mission to get out there and spread that message."
The 2014 graduates, and their jobs, are:
Marissa Broich, performing artist for the Old Creamery Theatre Company (Amana, Iowa).
Morgan Daniels, playing Amber Von Tussle in Hairspray! at American Gothic Performing Arts Festival, touring with National Theatre for Children in the fall.
Napoleon Douglas, playing Seaweed in Hairspray! at Playhouse on the Square Memphis, playing John in Miss Saigon and the Judge in Sweeney Todd at Midtown Arts Center in Colorado, and other roles to be determined.
Kyle Dvorak, hired by RWS and Associates, performing in New York and New Hampshire.
Katie Hahn, associate company member, Playhouse on the Square Memphis, playing Luisa in The Fantastics and other roles to be determined.
Erika Hakmiller, performing artist with Missoula Children's Theatre.
Hayden Kraus, playing Sir Galahad at Midtown Art Center in Colorado.
Kenny Lawson, guest artist at Danzarts and choreographer for DSM Entertainment Company in Des Moines.
Megan McQueeney, props master at the Mac-Haydn Theatre in New York.
Adam Meirink, performing at Allenberry Playhouse in Boiling Springs, Pennsylvania, in Mame, 42nd Street, and Oklahoma!
Jason Millsap, playing Ed Carmicahel in You Can't Take It With You at Tent Theatre, Springfield, Missouri.
Molly Nelson, performing artist with Missoula Children's Theatre.
Josh Osborn, performing artist with Missoula Children's Theatre.
Cameron Reeves, ensemble at Nebraska Shakespeare; associate company member, Playhouse on the Square Memphis, playing Francis in One Man, Two Guvnors, and other roles.
Allie Reidy resident acting company member of Charleston Stage Company, playing Elizabeth in Young Frankenstein and other roles to be determined in Charleston, North Carolina.
Natalie Schmit, intern at Old Creamery Theatre, playing Cinderella in Cinderella and Nina in Vanya, Sonya, Masha, and Spike.
Matt Schultz, production manager intern at Merry-Go-Round Playhouse in Auburn, New York.
Iris Seaman, pursuing a Master of Arts in Theatre at Long Island University.
Haley Sisler, playing Mrs. T/Bad Idea Bear in Avenue Q at Des Moines' StageWest Theater Company and performing with CLIMB Theatre in Minneapolis, Minnesota.
Caitlin Teters, teaching artist with Whippoorwill Children's Theatre in West Des Moines and directing The Little Mermaid Jr.
Josh Tobin, sound designer at Weathervane Playhouse in Akron, Ohio.