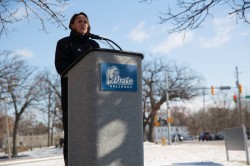 Drake University Director of Athletics Sandy Hatfield Clubb has been honored as one of 28 recipients of the National Association of Collegiate Director of Athletics (NACDA) Under Armour AD of the Year Award.
Hatfield Clubb received the award at the 49th annual NACDA convention on June 11 during the James J. Corbett Awards Luncheon at the World Center Marriott Resort in Orlando, Florida.
Bob Vecchione, executive director of the NACDA, said the AD of the Year Award is essential because it highlights the efforts of athletics directors at all levels for their commitment and positive contributions to student-athletes, campuses, and their surrounding communities.
"Since 1998, NACDA has been highlighting the impressive contributions made by athletics directors across all divisions of our membership," Vecchione said. "This award allows athletics directors to be recognized nationally and in their respective communities, which heightens the awareness of their leadership position in the athletics enterprise."
Hatfield Clubb is in her eighth year at Drake and has led the athletic department through an evolution that impacts all areas of athletics and the student-athlete experience. She has dynamically guided the department through the process of developing a long-range strategic plan that seeks a transformational model for developing a culture of excellence and ethics in athletics.
Key to the transformation has been the creation of an athletic department touchstone, The Bulldog Way. The touchstone defines the characteristics that sets Drake apart in the intercollegiate sports landscape, developing a culture among Drake's coaches, student-athletes, and staff that shapes character.
Hatfield Clubb's commitment to creating an intentional culture that promotes excellence in both academics and athletics is shown by the strong Missouri Valley Conference and Pioneer Football League performances this past year. Her leadership includes the vision for a major fundraising campaign that generated more than $8 million in seven months to build a basketball practice facility, and transforming the Drake Fieldhouse to a multi-purpose facility.
In the fall of 2013, a school-record 283 Drake student-athletes–or more than 70 percent of Drake student-athletes–achieved a 3.0 or higher grade point average.
Hatfield Clubb began her tenure as Drake's athletic director on May 30, 2006, as the 16th athletic director in the school's history, and the first woman to serve as athletic director at an NCAA Division I school in the state of Iowa.