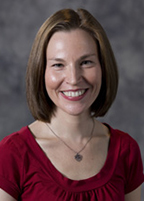 Mary McCarthy, associate professor of politics at Drake University, is one of three international scholars awarded the 2014 Japan Studies Fellowship at the East-West Center in Washington, D.C. McCarthy will be researching "Identity Through Historical Memory: The 'Comfort Women' Issues in U.S./Japan Relations."
Funded by the Center for Global Partnership (CGP) at the Japan Foundation, the fellowship finances a three-month, or six-month residence at the East-West Center in Washington, D.C. While in residence, McCarthy will complete articles or a monograph to be considered for publication, and she will deliver one public seminar. McCarthy will complete her three-month residency while she is on sabbatical next academic year.
McCarthy has taught at Drake since 2007, including numerous regionally focused courses on the politics and international relations of Japan, China, and East Asia, as well as topical courses in world and comparative politics. She received her B.A. in East Asian studies and her Ph.D. in political science from Columbia University.
McCarthy specializes in Japan's domestic and foreign policies. She has published on topics including Japanese media and cooperation and conflict between Japan and China in the East China Sea. Her current research examines the historical legacies of the Asia-Pacific War on Japan-U.S., Japan-China, and Japan-Korea relations. She is also a Mansfield Foundation U.S.-Japan Network for the Future Scholar.
Besides teaching and research, McCarthy enjoys mentoring students. In this capacity, she advises students on post-graduate opportunities in Asia, including teaching English in Japan through the prestigious Japan Exchange and Teaching Program (JET).
Visit www.eastwestcenter.org/ewc-in-washington/visiting-fellows/japan-studies-fellowship for more information on the fellowship.